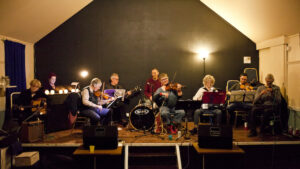 Congratulations to The Lismore Dance Band who has been nominated in Community Project of the Year sponsored by Traditional Arts and Culture Scotland in the MG ALBA Scots Trad Music Awards 2023. Vote for The Lismore Dance Band now!. It's going to be another great night at the MG ALBA Scots Trad Music Awards on Saturday 2nd December in Dundee's Caird Hall. Why not join us for a brilliant night of music and awards. Buy a ticket here.
We asked Mairi of The Lismore Dance Band the following questions.
Tell us about yourself
We're an island based Scottish dance band. Founded and run by Mairi Campbell in 2022 to bring regular dances back to the community. We're inspired by the great Scottish dance band players. From our community of 150 we have nine players in the band and we rehearse every week in the Winter and Spring and organise six dances a year.
Our material is available to any other groups that might want to set up something similar.
Why are you involved in Scottish music?
It feels important at this unsettling time to focus the musical skills we share into Scottish dance music. Dances are few and far between these days which is a concern to us. Our aim is to revive the music and dancing that we remember and love.
The musical skills involved are a fantastic challenge to the players and they bring good cheer and exercise to the community!.
Any particular career highlights?
Our first dance in the community hall in March 2022 and every one since!
What are your plans for the future?
Our plans are to keep playing dances for the local Lismore community – and beyond if invited…possibly as far as Ballachulish! We hope that the local band idea will spread further afield. Our plan is to improve as a band, and build a great repertoire and reputation.
We have been gifted enough fiddles for all the children at the primary school who now also learn fiddle with Mairi Campbell, so we hope to encourage our younger generations to join us in time.
The Lismore Dance Band Social Media
Website:
Facebook: @
Twitter: @
Instagram: @
YouTube: @
TikTok: @
The 2023 MG ALBA Scots Trad Music Awards are on the 2nd December 2023! You will be able to watch it live in person (buy a ticket here),Watch it live in the UK at 9pm (GMT) on BBC ALBA and and around the world here. Bands performing on Saturday 2nd December include Peatbog Faeries, Mànran, Karine Polwart and Dave Milligan, Duncan Chisholm Band, Joy Dunlop Band, Aberdeen SC&T Youth and more!
If you would like to support Hands Up for Trad in their work with Scottish trad music and musicians why not become a friend of Hands Up for Trad. In addition to our high profile events like the Scots Trad Music Awards, we also deliver a less well known, education programme for young people from 8yrs right through to young adults at the start of their careers. Read more here.