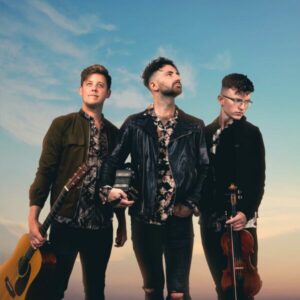 Congratulations to TALISK who has been nominated in Live Act of the Year sponsored by Gordon Duncan Memorial Trust in the MG ALBA Scots Trad Music Awards 2023. Vote for TALISK now!. It's going to be another great night at the MG ALBA Scots Trad Music Awards on Saturday 2nd December in Dundee's Caird Hall. Why not join us for a brilliant night of music and awards. Buy a ticket here.
We asked Mohsen of TALISK the following questions.
Tell us about yourself
Mohsen Amini (BBC Radio 2 Folk Awards' Musician of the Year), Graeme Armstrong and Benedict Morris (BBC Radio Scotland Young Traditional Musician of the Year) fuse concertina, guitar and fiddle to produce a ground-breaking, multi-layered signature that has captivated audiences around the globe.
Talisk have toured the world, stacking up major awards for their explosively energetic, artfully woven sound – including Folk Band of the Year at the BBC Alba Scots Trad Music Awards, a BBC Radio 2 Folk Award, and the Belhaven Bursary for Innovation. Appearances at leading festivals across multiple continents have amassed a die-hard following – including closing out Saturday night's main stage at the 2019 Cambridge Folk Festival, Denmark's Tønder Festival, the Rainforest World Music Festival in Malaysian Borneo, WOMADs UK, Chile and Las Palmas, Edmonton Folk Festival, Milwaukee Irish Festival, three back-to-back years at the Philadelphia Folk Festival, and six appearances at Glasgow's Celtic Connections.
Why are you involved in Scottish music?
We are from three different backgrounds but all grew up playing folk music of some kinda whether it be Irish or Scottish. Seeing what Scotland is doing with Scottish music at the moment is inspiring. It's as exciting as it's ever been and it's a privilege to be part of it.
Any particular career highlights?
Our SWG3 gig at the start of the year was a pretty big highlight. It set us into a frenzy of production for the year which we are riding the wave of and having a blast with!
The previous year playing on BBC Hogmanay is absolutely up there.
Some of the best highlights have to be the incredible festivals around the globe. Ortigueira for one, Skye Live, Closing Sat night of Cambridge Folk Festival always sticks with us and managing to get a foot into America on the festival circuit finally is something we absolutely love!
What are your plans for the future?
As always we're just looking forward to bringing our music around the world but we are particularly buzzing to hit January where we're doing our biggest headline show to date in the Barrowlands!
After that we have some pretty massive announcements that we can't wait to share!!
TALISK Social Media
Website: http://taliskmusic.com
Facebook: @taliskmusic
Twitter: @taliskmusic
Instagram: @taliskmusic
YouTube: @taliskmusic
TikTok: @taliskmusic
The 2023 MG ALBA Scots Trad Music Awards are on the 2nd December 2023! You will be able to watch it live in person (buy a ticket here),Watch it live in the UK at 9pm (GMT) on BBC ALBA and and around the world here. Bands performing on Saturday 2nd December include Peatbog Faeries, Mànran, Karine Polwart and Dave Milligan, Duncan Chisholm Band, Joy Dunlop Band, Aberdeen SC&T Youth and more!
If you would like to support Hands Up for Trad in their work with Scottish trad music and musicians why not become a friend of Hands Up for Trad. In addition to our high profile events like the Scots Trad Music Awards, we also deliver a less well known, education programme for young people from 8yrs right through to young adults at the start of their careers. Read more here.