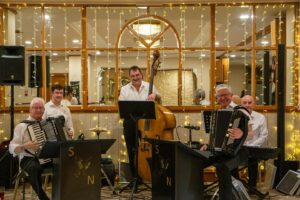 Congratulations to Sandy Nixon who has been nominated in Scottish Dance Band of the Year sponsored by National Association of Accordion and Fiddle Clubs in the MG ALBA Scots Trad Music Awards 2023. Vote for Sandy Nixon now!. It's going to be another great night at the MG ALBA Scots Trad Music Awards on Saturday 2nd December in Dundee's Caird Hall. Why not join us for a brilliant night of music and awards. Buy a ticket here.
We asked Sandy the following questions.
Tell us about yourself
I began playing the accordion at age 7. I started playing for Scottish Country Dancing at a local class at age 10. The band was formed in the late 1970s. Our first Scottish Dance Music broadcast for the BBC went on the air in January 1984. We play mainly for Scottish Country Dancing but not exclusively. We have played all over the UK and abroad, including France, Germany, Monaco, USA, South Korea, Oman and Indonesia. Working as a GP for over 30 years, music was my escape from the pressures of general practice. After more than 40 years, we still get an enormous buzz getting together as a band and playing for dancing. This seems to be reflected in the enthusiasm and feedback from the dancers and listeners.
Why are you involved in Scottish music?
From my earliest days learning to play the accordion, I was drawn to Scottish music. I have always enjoyed listening to and playing this genre of music. Even when I am not actually playing my accordion, there is Scottish music buzzing through my head!
Any particular career highlights?
Our trips abroad must rate highly in this regard. Visits to Shetland with the band would also come into this category. Nearer home, playing in Troon Concert Hall for the Monday evening summer dances continues to be something we look forward to.
What are your plans for the future?
? I hope to be able to continue playing with the band, particularly for dancing but also at accordion clubs. We all hope that the music and dancing will continue to thrive.
Sandy Nixon Social Media
The 2023 MG ALBA Scots Trad Music Awards are on the 2nd December 2023! You will be able to watch it live in person (buy a ticket here),Watch it live in the UK at 9pm (GMT) on BBC ALBA and and around the world here. Bands performing on Saturday 2nd December include Peatbog Faeries, Mànran, Karine Polwart and Dave Milligan, Duncan Chisholm Band, Joy Dunlop Band, Aberdeen SC&T Youth and more!
If you would like to support Hands Up for Trad in their work with Scottish trad music and musicians why not become a friend of Hands Up for Trad. In addition to our high profile events like the Scots Trad Music Awards, we also deliver a less well known, education programme for young people from 8yrs right through to young adults at the start of their careers. Read more here.