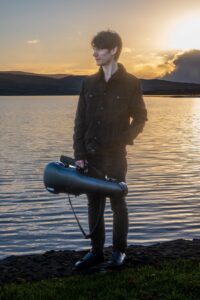 Congratulations to Ryan Young who has been nominated in Live Act of the Year sponsored by Gordon Duncan Memorial Trust in the MG ALBA Scots Trad Music Awards 2023. Vote for Ryan Young now!. It's going to be another great night at the MG ALBA Scots Trad Music Awards on Saturday 2nd December in Dundee's Caird Hall. Why not join us for a brilliant night of music and awards. Buy a ticket here.
We asked Ryan the following questions.
Tell us about yourself
My name is Ryan Young and I've been playing the fiddle for most of my life now. I feel very fortunate to have had so many wonderful teachers, each of whom has helped me form my style. Most of the tunes I play, I would claim as being Scottish as I learnt them from old collections and manuscripts. I did grow up listening to more Irish fiddle players though as that was what I has access to at the time. At that point in my life I couldn't have told you whether I was hearing a Scottish or an Irish style. My sound these days does sit somewhere between the two countries – I've heard people arguing about where to place me.
I've also been influenced by what I heard my dad playing on the guitar at home. He loves the Blues and wouldn't often bend notes. I was delighted to discover this can be done on the fiddle too!
Why are you involved in Scottish music?
I first started playing fiddle music when I heard Aly Bain play on the Hogmanay show. A little later, I was then given a recording of Martin Hayes and Dennis Cahill. I love the way traditional tunes can be hypnotic and tell a story, and are able to put people in a trance. I'm always searching for this trance-like state when I play. It's what I like most about playing!
Any particular career highlights?
A very recent highlight was touring the U.S.A. and Canada for the first time. I was there for around 7 weeks and played at several festivals I had only dreamt of going to. I still don't believe it actually happened!
I also feel extremely fortunate to have played alongside one of my musical heroes, Dennis Cahill, on a couple of occasions. I always ask accompanists to do something like what Dennis might… so being sat next to him was very surreal.
What are your plans for the future?
I may have only just released my 2nd album, but I am overjoyed and excited already about the 3rd as it involves my lifelong dream collaboration!
I'm also looking forward to lots of playing next year. I'm touring Australia for the first time and have tours booked in France, Germany, festivals across the UK and Europe and will possible return to the USA in Autumn.
Ryan Young Social Media
Website: http://ryanyoung.scot
Facebook: @RyanYoungFiddle
Twitter: @RyanYoungFiddle
Instagram: @ryanyoungfiddle
YouTube: @RyanYoungfiddle
TikTok: @ryanyoungfiddle
The 2023 MG ALBA Scots Trad Music Awards are on the 2nd December 2023! You will be able to watch it live in person (buy a ticket here),Watch it live in the UK at 9pm (GMT) on BBC ALBA and and around the world here. Bands performing on Saturday 2nd December include Peatbog Faeries, Mànran, Karine Polwart and Dave Milligan, Duncan Chisholm Band, Joy Dunlop Band, Aberdeen SC&T Youth and more!
If you would like to support Hands Up for Trad in their work with Scottish trad music and musicians why not become a friend of Hands Up for Trad. In addition to our high profile events like the Scots Trad Music Awards, we also deliver a less well known, education programme for young people from 8yrs right through to young adults at the start of their careers. Read more here.