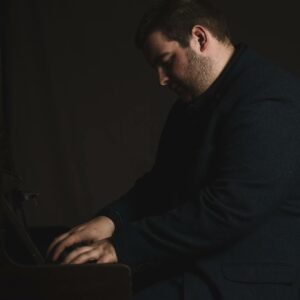 Congratulations to Rory Matheson who has been nominated in Musician of the Year sponsored by University of the Highlands and Islands in the MG ALBA Scots Trad Music Awards 2023. Vote for Rory Matheson now!. It's going to be another great night at the MG ALBA Scots Trad Music Awards on Saturday 2nd December in Dundee's Caird Hall. Why not join us for a brilliant night of music and awards. Buy a ticket here.
We asked Rory the following questions.
Tell us about yourself
I'm a Glasgow-based piano player originally from Assynt in the North West Highlands, now living in Glasgow. I am a founding member of the folk band TRIP and in 2019 I joined the fiddle-based quartet Fara. I have also recently collaborated with Orcadian musician Graham Rorie on a project called "We Have Won The Land" which is an album of new music inspired by the Assynt Crofter's Trust and their community buyout of the North Lochinver Estate in 1993.
Why are you involved in Scottish music?
I was brought up with Scottish Traditional music and have always loved it. The folk scene in Scotland is one of the most varied and exciting genres out there and it's a pleasure to be part of it.
Any particular career highlights?
I have been lucky enough to travel the world with both TRIP and Fara with gigs in all parts of the globe.
Releasing 'We Have Won The Land' with Graham Rorie last year was a big highlight, as well as releasing TRIPs debut album 'A Drop for Neptune'.
What are your plans for the future?
Continue to tour and perform with different artists in the scene as much as possible. There are a few exciting new projects coming up next year which will hopefully mean spending lots of time in the studio and releasing some new music!
Rory Matheson Social Media
Facebook: @https://www.facebook.com/rorymathesonmusic/
Twitter: @https://twitter.com/RoryMatheson88
Instagram: @https://www.instagram.com/rory_matheson/
The 2023 MG ALBA Scots Trad Music Awards are on the 2nd December 2023! You will be able to watch it live in person (buy a ticket here),Watch it live in the UK at 9pm (GMT) on BBC ALBA and and around the world here. Bands performing on Saturday 2nd December include Peatbog Faeries, Mànran, Karine Polwart and Dave Milligan, Duncan Chisholm Band, Joy Dunlop Band, Aberdeen SC&T Youth and more!
If you would like to support Hands Up for Trad in their work with Scottish trad music and musicians why not become a friend of Hands Up for Trad. In addition to our high profile events like the Scots Trad Music Awards, we also deliver a less well known, education programme for young people from 8yrs right through to young adults at the start of their careers. Read more here.