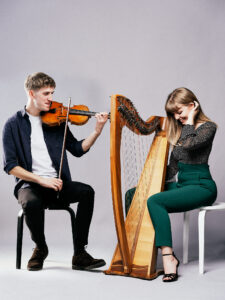 Congratulations to Rebecca Hill and Charlie Stewart who has been nominated in Composer of the Year sponsored by PRS for Music in the MG ALBA Scots Trad Music Awards 2023. Vote for Rebecca Hill and Charlie Stewart now!. It's going to be another great night at the MG ALBA Scots Trad Music Awards on Saturday 2nd December in Dundee's Caird Hall. Why not join us for a brilliant night of music and awards. Buy a ticket here.
We asked Rebecca of Rebecca Hill and Charlie Stewart the following questions.
Tell us about yourself
Rebecca Hill and Charlie Stewart are a harpist and fiddle player who have collaborated previously in numerous settings. Their new material draws from their individual musical backgrounds as well as their love of contemporary arrangements, compositions and improvisation. It is also influenced by the thriving Traditional music scene in Glasgow, where they are both currently based.
The name 'Thawcrook' refers to a tool traditionally used to make rope out of natural local materials, such as marram grass, heather or reeds. Their debut duo album reflects on this concept of drawing from a diverse range of sources to create a cohesive work, blending new compositions with arrangements of favourite Gaelic and traditional melodies, from their local areas and further afield (Rebecca being from Argyllshire and Charlie from Perthshire).
" 'Thawcrook' is an outstanding achievement of musicality, ingenuity and passion" Duncan Chisholm
"…allowing the two to show their ease with improvisation and spot-on ensemble blend." – Harp Column
Why are you involved in Scottish music?
Charlie- My parents both enjoy music and my dad plays bodhrán, so I was introduced to traditional music from a young age. I really loved albums from the likes of Duncan Chisholm, Aly Bain and Martin Hayes, and these led to me trying the fiddle.
Rebecca- My interest in the clàrsach was initially sparked at a local Fèis, however I have always been surrounded in music within my small village. I treasure memories from my youth getting to regularly learn songs and melodies in Gaelic and Scots amongst family and local musicians.
Any particular career highlights?
Highlights for the duo include a recent trip to Galicia for a run of gigs, supporting Siobhan Miller as part of her Scottish tour and launching their debut album, Thawcrook, earlier this year.
Charlie- I loved the opportunity to write and perform a New Voices concert for Celtic Connections 2020, those compositions have since formed the basis of an upcoming album. Performance highlights include Proms in the Park alongside Josie Duncan and Pablo Lafuente, a Spanish tour with Capercaillie, a performance in Ronnie Scott's with saxophonist Matthew Carmichael, a German tour and BBC Radio 4 appearance with Siobhan Miller, performing at the Scots Trad Music awards as part of the trio Snuffbox, the band Dosca and with others including Mischa Macpherson, Sian, Eryn Rae, Hannah Rarity, Kim Carnie and Ellen MacDonald. I was lucky to gain the Young Musician of the Year award in 2017.
Rebecca- Rebecca gained the title of 'Up and Coming Artist of the Year' at the MG Alba Scots Trad Music Awards in 2020 following the release of her solo EP 'the Airing' at Celtic Connections earlier that year. Her solo work has taken her on tour through Germany and America, as well as performing with The Outside Track.
What are your plans for the future?
We are looking forward to a Scottish tour planned for March 2024, as well as hoping to appear at festivals across the summer. We are also excited to be getting back into the studio to record another album in the near future.
Rebecca Hill and Charlie Stewart Social Media
Website: https://www.rebeccahillharp.com/rebeccaandcharlie
Facebook: @beckyhillandcharliestewart
Twitter: @
Instagram: @rebeccahillharpist
YouTube: @rebeccaandcharliemusic
TikTok: @
The 2023 MG ALBA Scots Trad Music Awards are on the 2nd December 2023! You will be able to watch it live in person (buy a ticket here),Watch it live in the UK at 9pm (GMT) on BBC ALBA and and around the world here. Bands performing on Saturday 2nd December include Peatbog Faeries, Mànran, Karine Polwart and Dave Milligan, Duncan Chisholm Band, Joy Dunlop Band, Aberdeen SC&T Youth and more!
If you would like to support Hands Up for Trad in their work with Scottish trad music and musicians why not become a friend of Hands Up for Trad. In addition to our high profile events like the Scots Trad Music Awards, we also deliver a less well known, education programme for young people from 8yrs right through to young adults at the start of their careers. Read more here.