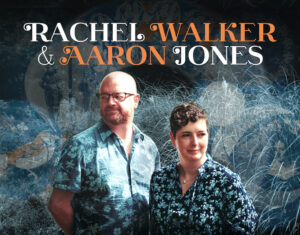 Congratulations to Rachel Walker and Aaron Jones who has been nominated in Scottish Folk Band of the Year sponsored by Threads of Sound in the MG ALBA Scots Trad Music Awards 2023. Vote for Rachel Walker and Aaron Jones now!. It's going to be another great night at the MG ALBA Scots Trad Music Awards on Saturday 2nd December in Dundee's Caird Hall. Why not join us for a brilliant night of music and awards. Buy a ticket here.
We asked Aaron of Rachel Walker and Aaron Jones the following questions.
Tell us about yourself
Bringing together one of Scotland's finest Gaelic singer/songwriters with one of the country's foremost folksingers and accompanists, Rachel Walker and Aaron Jones celebrate songs from both the traditional and contemporary repertoire with a focus on sensitive arrangements with beautiful vocal harmony. As two of Scotland's most highly regarded performers, Rachel Walker and Aaron Jones bring a wealth of skills, knowledge, musicianship and experience to this exciting new duo. After years of writing, touring and performing with many of traditional music's finest, Rachel and Aaron have joined forces to create one of the scenes most exciting new collaborations.
Why are you involved in Scottish music?
We've both been involved in Scottish music for our entire professional lives. Our individual passion for Scottish music has inspired a lifelong exploration of the wide song and tune repertoire across the tradition. We are delighted to bring together our shared passion for Scottish music in our duo.
Any particular career highlights?
We've both been lucky to tour the World performing Scottish music. After years of extensive touring in USA/Canada, Europe and Australia, the chance to perform in Barbados and Hawaii would certainly rank high. We've both had the thrill of performing to audiences in excess of 10,000 and, as guests/performers on over 100 album recordings between us, we've had the chance to perform and collaborate with many of our musical peers and many incredible musicians and singers. We both also work extensively for TV (BBC ALBA, Netflix, Amazon Apple TV+, BBC/ITV, PBS, NBC, etc.) and the continued challenges of working (whether as MD or on our contributions to TV scores) and seeing these projects come to fruition continues to provide career highlights. The opportunity to do what we love and to continue to tour and record as ambassadors for our music gives us a huge amount to be thankful for. Writing, producing and performing our latest album – both of our first album of entirely self-penned material – has definitely been a career highlight.
What are your plans for the future?
Having toured our latest album (ten original songs in celebration of inspirational Scottish women) extensively in UK, Ireland and Canada we already have dates in our diaries for tours in UK, Germany and the USA. We're already writing for a new album of original music and have started demoing tracks for an album of traditional songs too. Since our last album was a cross arts collaboration with Scottish artists, engineers, designers and musicians, we are also actively exploring new projects with fellow artists and musicians.
Rachel Walker and Aaron Jones Social Media
Website: https://www.rachelwalkerandaaronjones.com
Facebook: @
Twitter: @
Instagram: @rachel_walker_and_aaron_jones
YouTube: @rachelwalkeraaronjones8204
TikTok: @
The 2023 MG ALBA Scots Trad Music Awards are on the 2nd December 2023! You will be able to watch it live in person (buy a ticket here),Watch it live in the UK at 9pm (GMT) on BBC ALBA and and around the world here. Bands performing on Saturday 2nd December include Peatbog Faeries, Mànran, Karine Polwart and Dave Milligan, Duncan Chisholm Band, Joy Dunlop Band, Aberdeen SC&T Youth and more!
If you would like to support Hands Up for Trad in their work with Scottish trad music and musicians why not become a friend of Hands Up for Trad. In addition to our high profile events like the Scots Trad Music Awards, we also deliver a less well known, education programme for young people from 8yrs right through to young adults at the start of their careers. Read more here.