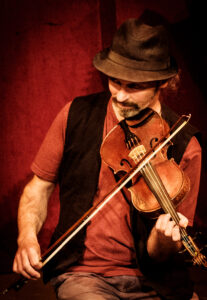 Congratulations to Quarterdays by Gavin Marwick who has been nominated in Original Work of the Year sponsored Musicians' Union in the MG ALBA Scots Trad Music Awards 2023. Vote for Quarterdays by Gavin Marwick now!. It's going to be another great night at the MG ALBA Scots Trad Music Awards on Saturday 2nd December in Dundee's Caird Hall. Why not join us for a brilliant night of music and awards. Buy a ticket here.
We asked Gavin of Quarterdays by Gavin Marwick the following questions.
Tell us about yourself
I'm a Scottish fiddle player and composer, originally from Edinburgh and now living in Galloway. I've been a professional musician for 30 years during which time I've been lucky to work with a wide range of amazing creatives and musicians, and to travel to many corners of the world. Quarterdays has been a massive project for me in 2023, great both creatively and promotionally. It's Creative Scotland funded and is a musical response to the old Scots Quarter Days, four EPs of my original music all recorded as duos but with different partners – Aaron Jones, Wendy Stewart, Ruth Morris and Phil Alexander.
Why are you involved in Scottish music?
My family when I was growing up were all very keen on Scottish traditional music – I was the youngest and it just felt very natural to join in. My parents were keen dancers and most of my siblings were playing/learning instruments. I continue to play because I love it – it's a great way to meet people, to share ideas, to share music. There's a rich variety of styles to work with in Scotland, and as a musician you get a wide portfolio of opportunities involving all sorts of performances, ceilidhs, sessions, theatre, touring, recording, teaching, social events and international events. It's great fun!
Any particular career highlights?
Quarterdays EP series; the new Firelight Trio project; publishing Horizons, my tune book and The Long Road and Far Horizons double album of original tunes; writing for and performing with the Journeyman/ Scottish Ensemble 'Impressions of Galloway' concert; a recent trip to Japan with our self devised show 'The Village and The Road'; 12 years touring the world with Iron Horse; 10 years with Bellevue Rendezvous; The Unusual Suspects; multi-award winning The Tailor of Inverness; Heritage (Traverse); the Up in the Air and Blue Lamp CDs.
What are your plans for the future?
Firelight Trio (myself with Ruth Morris and Phil Alexander) is relatively new and is going very well. We will be making a second album in 2024. A tune book to accompany the Quarterdays EPs will be launched at a Quarterdays gig on 2nd January at Celtic Connections 2024, to further promote and perform my tunes. I enjoyed the duo/EP format and hope to do more of this along with other recordings of original work – I have a large backlog of material to work from. An album of Skinner would be interesting. To record and promote The Galloway Agreement (Galloway strings based line up) and also to promote The Village and The Road. More touring and performing generally. Another tour of Japan in 2024.
Quarterdays by Gavin Marwick Social Media
Website: https://www.gavinmarwick.co.uk/
Facebook: https://www.facebook.com/gavin.marwick
Twitter:
Instagram:
YouTube: https://www.youtube.com/channel/UCkPIqGMlCjYpmJfANCTbCJA
TikTok:
The 2023 MG ALBA Scots Trad Music Awards are on the 2nd December 2023! You will be able to watch it live in person (buy a ticket here),Watch it live in the UK at 9pm (GMT) on BBC ALBA and and around the world here. Bands performing on Saturday 2nd December include Peatbog Faeries, Mànran, Karine Polwart and Dave Milligan, Duncan Chisholm Band, Joy Dunlop Band, Aberdeen SC&T Youth and more!
If you would like to support Hands Up for Trad in their work with Scottish trad music and musicians why not become a friend of Hands Up for Trad. In addition to our high profile events like the Scots Trad Music Awards, we also deliver a less well known, education programme for young people from 8yrs right through to young adults at the start of their careers. Read more here.