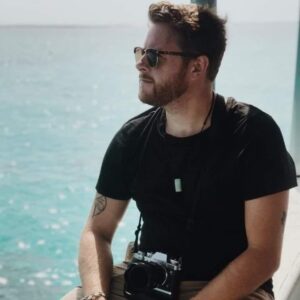 Congratulations to Paul Jennings who has been nominated in Production Awards 2023: Photographer in the MG ALBA Scots Trad Music Awards 2023. Vote for Paul Jennings now!. It's going to be another great night at the MG ALBA Scots Trad Music Awards on Saturday 2nd December in Dundee's Caird Hall. Why not join us for a brilliant night of music and awards. Buy a ticket here.
We asked Paul the following questions.
Tell us about yourself
Photographer & filmmaker Paul Jennings has been passionate about creating compelling moving and still imagery since 2007.
Paul has worked with a wide range of clients including Jura Whisky, Extra divers, Whyte & Mackay, Celtic Connections, and a great number of well known musicians and bands around the world.
Paul worked as a professional drummer & percussionist for more than 20 years touring extensively throughout the world, authoring a number of best-selling music method books, and hosting the Drum Channel Podcast in Los Angeles where he interviewed some of the world's most famous and influential drummers.
Paul grew up in the Shetland Islands and lived and worked in the United States for a decade before moving back to Scotland in 2018.
He has traveled extensively to shoot for projects across the world in countries including Kenya, India, Indonesia, Thailand, Cambodia, Italy, France, Spain, United States, Canada, and the UK.
Why are you involved in Scottish music?
It all started for me back in 1993 when I attended the Shetland Folk Festival. At that point aged 11 I realised I wanted to be part of this thing. I was a drummer at first and played with many Scottish bands over the years. Photography to me later when I started making tour diary videos and posting them to a new website called YouTube in 2007. I eventually got into still photography and shooting bands became a natural progression. Taking photos of people is what I love. Wether on stage, portraiture, or documentary work.
I have been fortunate to work with many wonderful artists over the years including Shooglenifty, Talisk, Project Smok, Cory Wong, Kris Drever, Jasmine Rodgers, Salsa Celtica, Breabach, Buzzkiller, Ali Hutton, Kinaris Quintet, Skipinnish, Hannah Read, Eryn Rae, Valtos, James Lindsay, and load more.
Any particular career highlights?
As I say I love photographing humans but I think one of my photographic highlights was photographing animals in the wild on the Masai Mara in Kenya a few years back. Something I hope to do again for sure.
What are your plans for the future?
To keep working with the wonderful artists in the Scottish music scene and also to further build my portfolio in other genres.
Paul Jennings Social Media
Website: http://pauljennings.co
Facebook: @
Twitter: @
Instagram: @itspauljennings
YouTube: @
TikTok: @itspauljennings
The 2023 MG ALBA Scots Trad Music Awards are on the 2nd December 2023! You will be able to watch it live in person (buy a ticket here),Watch it live in the UK at 9pm (GMT) on BBC ALBA and and around the world here. Bands performing on Saturday 2nd December include Peatbog Faeries, Mànran, Karine Polwart and Dave Milligan, Duncan Chisholm Band, Joy Dunlop Band, Aberdeen SC&T Youth and more!
If you would like to support Hands Up for Trad in their work with Scottish trad music and musicians why not become a friend of Hands Up for Trad. In addition to our high profile events like the Scots Trad Music Awards, we also deliver a less well known, education programme for young people from 8yrs right through to young adults at the start of their careers. Read more here.