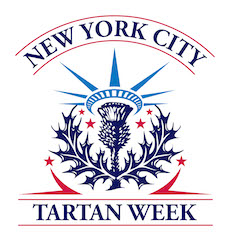 Congratulations to NYC Tartan Week who has been nominated in Event of the Year sponsored by VisitScotland in the MG ALBA Scots Trad Music Awards 2023. Vote for NYC Tartan Week now!. It's going to be another great night at the MG ALBA Scots Trad Music Awards on Saturday 2nd December in Dundee's Caird Hall. Why not join us for a brilliant night of music and awards. Buy a ticket here.
We asked Kyle of NYC Tartan Week the following questions.
Tell us about yourself
NYC Tartan Week & NYC Tartan Day Parade
In 1999, two pipe bands and a small but enthusiastic group of Scottish Americans, led by Grand Marshal and Academy Award-winning actor Cliff Robertson, marched from the British Consulate to the UN in the first New York City Tartan Day Parade. Since then, the annual NYC Tartan Day Parade has brought together thousands of people from across NYC, the United States, and Scotland by providing meaningful connections through the celebration of Scottish heritage and culture.
Organized by the National Tartan Day New York Committee, the Parade plays an integral role in marking National Tartan Day (April 6), a day declared by the U.S. Senate in 1998 to officially recognize the "outstanding achievements and contributions made by Scottish Americans to the United States." The NYC Tartan Day Parade, which is free to all those who participate and represents the highlight of a week long series of Scottish-themed festivities designated as "NYC Tartan Week," includes over 3,000 bagpipers, Highland dancers, clan organizations, Scottish dog breeds, and more, proudly marching up Sixth Avenue amongst tens of thousands of spectators in person and online.
The NYC Tartan Day Parade and NYC Tartan Week continue to attract the best Scottish and Scottish-American artists, entrepreneurs, organizations, and more in an effort to promote, support, and develop deeper personal connections with Scottish heritage in America. To find out more, follow us on Facebook, Instagram, and Twitter at @nyctartanweek
Why are you involved in Scottish music?
NYC Tartan Week's involvement in Scottish music is a celebration of the deep-rooted cultural ties that exist between Scotland and the United States. Music has been an integral part of Scottish heritage, and it serves as a powerful means to connect with people and evoke a sense of nostalgia and camaraderie. By featuring Scottish music during the Tartan Week festivities, the event not only pays homage to the rich musical traditions of Scotland but also creates a bridge between the two nations, fostering a sense of unity and shared cultural appreciation. Whether it's the stirring sound of bagpipes, the lively tunes of Scottish folk music, or the resonant ballads that tell stories of the Scottish experience, Scottish music at NYC Tartan Week adds a vibrant and soul-stirring dimension to the celebration, further strengthening the bonds between Scotland and the United States.
Any particular career highlights?
Some of the most cherished moments of NYC Tartan Week include the heartwarming and lively Tartan Day Parade, where the streets come alive with the captivating sound of bagpipes, the elegant movements of Highland dancers, and a vivid display of tartan pride. The traditional ceilidh dances and exhilarating live music performances bring a sense of camaraderie that transcends cultural boundaries, uniting people in the joy of celebration. The inaugural NYC Tartan Week Mòd was an extraordinary success, brilliantly blending Scottish heritage with modern influences, showcasing the ever-evolving nature of Scottish culture. This fresh addition breathed new life into the event, adding a contemporary twist to the traditional festivities. NYC Tartan Week is a time for savoring the delectable flavors of Scottish cuisine, delving into Scotland's rich history through enlightening exhibitions, and reveling in the enduring global impact of Scottish heritage. These standout moments are a testament to the event's ability to merge tradition with innovation, making it a beloved and memorable annual celebration for all to enjoy.
What are your plans for the future?
The future plans for NYC Tartan Week are filled with exciting prospects and a commitment to expanding the celebration of Scottish culture. Organizers aim to make it an even more inclusive and far-reaching event, drawing in a diverse audience and strengthening the cultural ties between Scotland and the United States. Anticipated developments include broader participation from Scottish communities, both locally and internationally, as well as collaborations with artists, musicians, and cultural institutions to showcase the depth and diversity of Scottish heritage. The introduction of new events, workshops, and educational programs will enrich the experience, ensuring that NYC Tartan Week continues to evolve while preserving its cherished traditions. Moreover, the organizers are dedicated to fostering a sense of unity and belonging among attendees, making it an annual highlight for those passionate about Scottish culture, as well as anyone eager to learn more about the nation's vibrant history and contributions to the world.
NYC Tartan Week Social Media
Website: http://nyctartanweek.org
Facebook: @nyctartanweek
Twitter: @nyctartanweek
Instagram: @nyctartanweek
YouTube: @nyctartanweek
The 2023 MG ALBA Scots Trad Music Awards are on the 2nd December 2023! You will be able to watch it live in person (buy a ticket here),Watch it live in the UK at 9pm (GMT) on BBC ALBA and and around the world here. Bands performing on Saturday 2nd December include Peatbog Faeries, Mànran, Karine Polwart and Dave Milligan, Duncan Chisholm Band, Joy Dunlop Band, Aberdeen SC&T Youth and more!
If you would like to support Hands Up for Trad in their work with Scottish trad music and musicians why not become a friend of Hands Up for Trad. In addition to our high profile events like the Scots Trad Music Awards, we also deliver a less well known, education programme for young people from 8yrs right through to young adults at the start of their careers. Read more here.