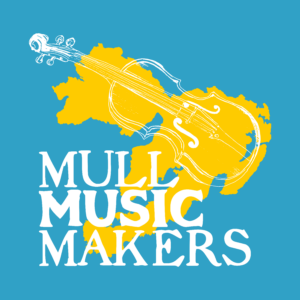 Congratulations to Mull Music Makers who has been nominated in Community Project of the Year sponsored by Traditional Arts and Culture Scotland in the MG ALBA Scots Trad Music Awards 2023. Vote for Mull Music Makers now!. It's going to be another great night at the MG ALBA Scots Trad Music Awards on Saturday 2nd December in Dundee's Caird Hall. Why not join us for a brilliant night of music and awards. Buy a ticket here.
We asked Laura of Mull Music Makers the following questions.
Tell us about yourself
Mull Music Makers is a year-round programme which provides high quality, free music-making opportunities to young people living in remote, access-deprived communities. We raise funds to bring specialist tutors to the island each month. Young people come from across the island to learn music through song, movement, performance and violin/fiddle tuition.
Why are you involved in Scottish music?
One of our aims is promote and sustain music-making traditions in an area of the country where musical heritage is rich but accessing tuition is extremely difficult.
Any particular career highlights?
This last year has been one of the busiest and most exciting times for MMM. Our new lead tutor, the celebrated Scottish musician and educator, Patsy Reid, has refreshed the programme and brought a special energy to the workshops. Patsy's own ingenious arrangements are tailored to give everyone, regardless of their playing level, the opportunity to be part of one big ensemble. We are able to showcase this more inclusive set up at a growing number of community concerts and ceilidhs.This year's performances have included supporting Duncan Chisholm and Hamish Napier, Alasdair Fraser and Natalie Haas and folk trio, Assynt.
The crowning moment of this year came with the invitation to perform as part of the opening weekend of the Edinburgh International Festival. Mull Music Makers on stage in Princes St Gardens celebrating Scotland's young musicians – we didn't see that 10 years ago!
What are your plans for the future?
We now have the capacity, confidence and experience to deliver a robust Trainee Programme. We are very proud to be developing this strand of the project so that we can invest back into the wider youth music sector and strengthen skills locally, safeguarding music in the community for future generations.
We are setting up a new Ambassador Programme for older participants which will help us inch closer to a sustainable learning loop between participant, trainee and tutor- one of Mull Music Makers' ultimate long-term goals.
We would also like to explore the possibility of a cultural exchange with a music-making group abroad….perhaps another island community so that we can share and learn from others how they overcome barriers to accessing music.
Mull Music Makers Social Media
Website: https://www.soundwavesscio.org.uk/mull-music-makers
Facebook: @mullmusicmakers
Twitter: @mullmusicmakers
Instagram: @mull_music_makers
YouTube: @mullmusicmakers8420
TikTok: @
The 2023 MG ALBA Scots Trad Music Awards are on the 2nd December 2023! You will be able to watch it live in person (buy a ticket here),Watch it live in the UK at 9pm (GMT) on BBC ALBA and and around the world here. Bands performing on Saturday 2nd December include Peatbog Faeries, Mànran, Karine Polwart and Dave Milligan, Duncan Chisholm Band, Joy Dunlop Band, Aberdeen SC&T Youth and more!
If you would like to support Hands Up for Trad in their work with Scottish trad music and musicians why not become a friend of Hands Up for Trad. In addition to our high profile events like the Scots Trad Music Awards, we also deliver a less well known, education programme for young people from 8yrs right through to young adults at the start of their careers. Read more here.