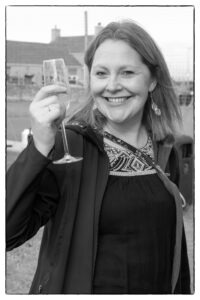 Congratulations to Mhari McLeman, Shetland Folk Festival who has been nominated in Production Awards 2023: Traditional Music Enabler in the MG ALBA Scots Trad Music Awards 2023. Vote for Mhari McLeman, Shetland Folk Festival now!. It's going to be another great night at the MG ALBA Scots Trad Music Awards on Saturday 2nd December in Dundee's Caird Hall. Why not join us for a brilliant night of music and awards. Buy a ticket here.
We asked Mhari of Mhari McLeman, Shetland Folk Festival the following questions.
Tell us about yourself
The Shetland Folk Festival is an annual 4 day spree that has been going for over 4 decades now. It absolutely prides itself on showcasing Shetland's own rich musical heritage but also up and coming talent from across Scotland and much further afield too!
Our event is organised 100% by volunteers and our core committee of 10 and wider volunteer pool are extremely proud of our Festival's international reputation and all that we do to enable opportunities for young and established performers. Over the decades, the event has helped inspire & encourage many a musical career in Traditional Music, with many performers receiving the exposure and international connections required to help open up other doors and opportunities the world over. We're so proud of that.
Encouraging collaboration is at the heart of everything we do, including youth development projects that bring together young musicians 'fae aa aerts' to exchange traditional music styles and techniques. We encourage sessions in our lively Festival Club and there's nothing we love more as our own young players getting an opportunity to session or perform with some of their musical heroes. There's no "backstage" at the Shetland Folk Festival and we all thrive on that.
Why are you involved in Scottish music?
I have been volunteering for the Shetland Folk Festival for 30 years now – which is a pretty terrifying statistic – but I was born into a musical family and developed an appreciation for the Festival and Scottish music at a very early age (not quite as early as my son Hamish though – who was actually born at the 2013 Shetland Folk Festival…..oops)
I joined the core committee in 2005 doing publicity, grants, sponsorship and specific projects and have been in the Festival Programming role since 2014. The team behind the Shetland Folk Festival have always been a hard working inspirational bunch of people and I certainly learned so much from the late great Davie Henderson when he was the programmer. YES – it's incredibly time consuming organising an international Festival alongside having 3 young children and a full-time job – BUT being an enabler and helping deliver significant and positive wellbeing, social and cultural impacts continues to be a huge motivator. I love helping make dreams happen and feel so lucky to be part of an amazing, driven and community led Festival team.
Any particular career highlights?
If I cast my mind back to my "emotional" Festival moments, it's definitely the youth development projects that we've run through the years that have been my Festival career highlights – including Nordic Tone where we brought together 25 young musicians from Shetland, Sweden, Finland, Denmark and Norway (which then went on to perform at Celtic Connections too).
My most recent career highlight was the bringing together of the 4 most recent winners of the BBC Scotland Young Traditional Musician of the Year at the 41st Shetland Folk Festival in 2023 for delivering workshops in schools and for a special showpiece concert. This included Shetland's very own Amy Laurenson but the project idea was conceived well before we knew who the 2023 winner was.
By programming award-winning and upcoming Scottish talent, the purpose was to motivate and demonstrate potential pathways for Shetland's own young local musicians while giving long overdue exposure to those Scottish artistes whose careers and profile building was halted by the pandemic. This concert will go down in Festival history as one of the most incredible concerts we have ever staged. My eyes were definitely weet!!
https://www.shetnews.co.uk/2023/04/30/young-trad-showcase-you-should-have-been-there-to-hear-it/
What are your plans for the future?
Hopefully we'll keep on doing what we're doing – providing a platform for up and coming talent, both fae Shetland, Scotland and further afield and continuing to inspire incredibly talented musicians of their pathways into traditional music beyond our nearest shores.
Mhari McLeman, Shetland Folk Festival Social Media
Website: http://shetlandfolkfestival.com
Facebook: @ShetlandFolkFestival
Twitter: @shetlandfolk
Instagram: @shetlandfolk
The 2023 MG ALBA Scots Trad Music Awards are on the 2nd December 2023! You will be able to watch it live in person (buy a ticket here),Watch it live in the UK at 9pm (GMT) on BBC ALBA and and around the world here. Bands performing on Saturday 2nd December include Peatbog Faeries, Mànran, Karine Polwart and Dave Milligan, Duncan Chisholm Band, Joy Dunlop Band, Aberdeen SC&T Youth and more!
If you would like to support Hands Up for Trad in their work with Scottish trad music and musicians why not become a friend of Hands Up for Trad. In addition to our high profile events like the Scots Trad Music Awards, we also deliver a less well known, education programme for young people from 8yrs right through to young adults at the start of their careers. Read more here.