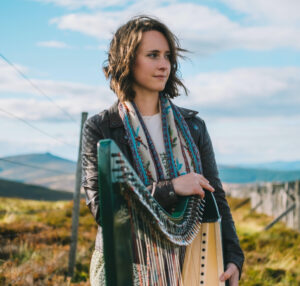 Congratulations to Lucie Hendry who has been nominated in Up and Coming Artist of the Year sponsored by Royal Conservatoire of Scotland in the MG ALBA Scots Trad Music Awards 2023. Vote for Lucie Hendry now!. It's going to be another great night at the MG ALBA Scots Trad Music Awards on Saturday 2nd December in Dundee's Caird Hall. Why not join us for a brilliant night of music and awards. Buy a ticket here.
We asked Lucie of Lucie Hendry the following questions.
Tell us about yourself
I am a lever harpist originally from Aberdeenshire and grew up with a passion for both Scottish music and world music. I went on to study Scottish traditional music at the Royal Conservatoire of Scotland and graduated in 2018. Since then I have been working freelance in Glasgow and the past few years, I have also been working more in Denmark, both on my solo repertoire while promoting Scottish music in the country.
I am currently enjoying some international collaborations, primarily through the Lucie Hendry Trio, where I am joined by an electric guitarist and drummer. We recorded my debut solo album, Land of Eden, which I released in June 2023 and have since toured in both Denmark and Scotland. I am particularly interested in exploring alternative instrumental constellations as a lever harpist while creating Scottish folk fusion music.
Why are you involved in Scottish music?
Growing up listening to and playing Scottish traditional music established strong roots from which all my music now stems from. My Scottish musical roots ground me and have always given me a sense of place and cultural identity, no matter where I travel to or who I work with.
Any particular career highlights?
My recent Scotland tour with my trio was a real highlight. We absolutely loved touring around Scotland for the first time as a trio and giving a couple workshops to music students. Releasing my debut solo album, Land of Eden, earlier this June was another highlight. I would also say that being a finalist of the BBC Young Traditional Musician of the Year 2021 competition was pretty special for me!
What are your plans for the future?
My plans involve creating lots more music and collaborating with many different musicians both at national and international level. I'm starting to plan album 2, and I want to keep developing my trio as well as getting a project up and running with fellow harpist, Justyna Krzyżanowska, that we have been writing music for. My aim is to explore new musical grounds with the lever harp while sharing the instrument with many new audiences.
Lucie Hendry Social Media
Website: https://www.luciehendry.com/
Facebook: @luciehendryharp
Twitter: @
Instagram: @lucie_hendry
YouTube: @luciehendry
TikTok: @
The 2023 MG ALBA Scots Trad Music Awards are on the 2nd December 2023! You will be able to watch it live in person (buy a ticket here),Watch it live in the UK at 9pm (GMT) on BBC ALBA and and around the world here. Bands performing on Saturday 2nd December include Peatbog Faeries, Mànran, Karine Polwart and Dave Milligan, Duncan Chisholm Band, Joy Dunlop Band, Aberdeen SC&T Youth and more!
If you would like to support Hands Up for Trad in their work with Scottish trad music and musicians why not become a friend of Hands Up for Trad. In addition to our high profile events like the Scots Trad Music Awards, we also deliver a less well known, education programme for young people from 8yrs right through to young adults at the start of their careers. Read more here.