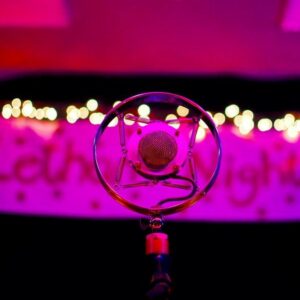 Congratulations to Letham Nights who has been nominated in Club of the Year in the MG ALBA Scots Trad Music Awards 2023. Vote for Letham Nights now!. It's going to be another great night at the MG ALBA Scots Trad Music Awards on Saturday 2nd December in Dundee's Caird Hall. Why not join us for a brilliant night of music and awards. Buy a ticket here.
We asked Michael of Letham Nights the following questions.
Tell us about yourself
Letham Nights – The Best Small Gigs In The World.
A bold statement but one we stand by! 14 years ago, we sat over a dram and came up with the idea: bring high quality music to our wonderful village hall, provide a stage for local talent and then use the money we raise to improve the hall and make it zero carbon! It seemed so easy… We quickly realised that the money made from music has to go back to the musicians. The zero-carbon mission went on the renewable back burner and we concentrated on building a beautiful music-loving community with an appreciative, listening all-ages audience of neighbours, friends and family, who have the choice to dance like no-one's watching on our iconic oak dance floor while musicians perform in an intimate setting and feel supported both financially and artistically. Our team of dedicated volunteers from within the local community, work to curate an innovative annual programme of shows – sometimes collaborating with dance artists and film-makers – and since 2009 – have used their diverse talents to put on gigs to showcase the talents of almost 150 acts ranging from our neighbours and friends to national treasures like Breabach, King Creosote, Saltfishforty and Rachel Sermanni or up-and-coming new talent like Esther Swift, Neil Sutcliffe & CLR Theory. There's attention to detail. We set up the hall with tables, chairs, tablecloths and candles. We run a friendly bar called 'The Clap & Tipple' with snacks and drinks from local producers and retailers. Our house sound engineer is meticulous and inspires the confidence of the performers, and we take care with lighting and backdrop. We feed the musicians and volunteers after soundcheck with tasty homemade food and after the show, offer cosy homestay accommodation (and occasionally a lively afterparty!). Letham Nights – The Best Small Gigs In The World.
Why are you involved in Scottish music?
Our hall was Jimmy Shand's favourite and so we are just continuing a long tradition. Live music is for everyone. It belongs in communities. We are determined to offer an alternative to the standard model of big venues and festivals: one where the talent that's under all our noses in the community gets a chance to shine and our community gets to experience the best of what Scotland has to offer. At the same time, we use our success to highlight the climate crisis and the need for every community to make its contribution to reducing our impact on the planet. For us that means a zero-carbon hall.
Any particular career highlights?
So many musical highlights, but this is what stands out: when a group of pre-school kids in the village, playing with their friends, were overheard by their parents: "let's play Letham Nights again!" and in the bedroom the bunks were set up as a stage, lit up with makeshift lighting, cardboard boxes for amps and toy instruments at the ready.
What are your plans for the future?
Zero carbon is within our grasp. It would warm the cockles of our hearts to give the village hall a brand-new cosy, stylish and sustainable 21st Century outfit of insulation for its 70th birthday in 2025.
As far as music is concerned, who knows what the future will bring? We are a creative team, open to ideas. More collaborations with other art forms, other communities and their village halls? More opportunities for the young to learn and take up the baton whether that means performing and making music, technical support, staging events? The possibilities are endless!
Letham Nights Social Media
Website: https://letham.org.uk/lethamnights/
Facebook: https://www.facebook.com/lethamnights.org/
Twitter: @lethamnights
Instagram: @lethamnights
YouTube: @
TikTok: @
The 2023 MG ALBA Scots Trad Music Awards are on the 2nd December 2023! You will be able to watch it live in person (buy a ticket here),Watch it live in the UK at 9pm (GMT) on BBC ALBA and and around the world here. Bands performing on Saturday 2nd December include Peatbog Faeries, Mànran, Karine Polwart and Dave Milligan, Duncan Chisholm Band, Joy Dunlop Band, Aberdeen SC&T Youth and more!
If you would like to support Hands Up for Trad in their work with Scottish trad music and musicians why not become a friend of Hands Up for Trad. In addition to our high profile events like the Scots Trad Music Awards, we also deliver a less well known, education programme for young people from 8yrs right through to young adults at the start of their careers. Read more here.