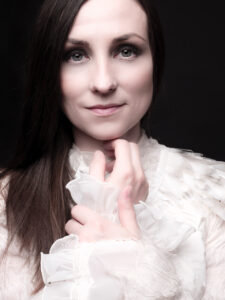 Congratulations to Julie Fowlis who has been nominated in Musician of the Year sponsored by University of the Highlands and Islands in the MG ALBA Scots Trad Music Awards 2023. Vote for Julie Fowlis now!. It's going to be another great night at the MG ALBA Scots Trad Music Awards on Saturday 2nd December in Dundee's Caird Hall. Why not join us for a brilliant night of music and awards. Buy a ticket here.
We asked Julie of Julie Fowlis the following questions.
Tell us about yourself
I'm a singer and musician, originally from the Outer Hebrides and now based in the Highlands. I am lucky to have had the opportunity to perform all over the world, from Carnegie Hall in Clashmore to the other one in New York, and most of my work is deeply rooted in the Gaelic tradition. One of my favourite things to do is collaborate, and I'm fortunate to have toured and recorded many times with the Transatlantic Sessions and am a member of the ensemble Spell Songs, the musical evolution of The Lost Words by Robert Macfarlane and Jackie Morris. I'm interested in collaborating cross genre and across different languages too which had led to working with other artists such as KT Tunstall, Chris Thile, Nicola Benedetti, Einar Selvik, Mary Chapin Carpenter, Le Vent du Nord, Uxia and Tejedor.
I have worked with Disney Pixar, Dreamworks and Ubisoft on major releases and I have spent much time over the years performing throughout Scotland, Ireland and Europe with the TV series I presented with Muireann Nic Amhlaoibh, Port, exploring regional styles of music and song.
More recent work has included commissions for BBC Radio 3 and Radio 4, recording an audiobook for Penguin, composing new Irish/Gaelic language material with my husband Éamon Doorley and Zoe Conway and John McIntyre, US touring and working on a legacy 14-18NOW project with Duncan Chisholm. I was inducted into the Royal Society of Edinburgh in 2021 and was the recipient of The Sàr Ghàidheal Fellowship, an award which recognises outstanding contribution to Gaelic culture, earlier this year.
Why are you involved in Scottish music?
I just love it! Simple as that.
Any particular career highlights?
Performing at the Royal Albert Hall with the BBC Concert Orchestra was a huge privilege, as was performing at the Ryder Cup final in Chicago in 2012, and for the Commonwealth Games opening ceremony in Glasgow in 2014. Working on the movie Brave too, of course. And making it onto a NASA astronaut wake-up playlist for space!
But let's be honest – there is nothing better than playing in your local hall, with a dance after and a good raffle.
What are your plans for the future?
Currently working on several projects for 2024/2025 including multiple recordings, commissions and projects for screen, radio and theatre.
Julie Fowlis Social Media
Website: https://www.juliefowlis.com/
Facebook: @juliefowlis
Twitter: @juliefowlis
Instagram: @juliefowlis
YouTube: @juliefowlismusic
TikTok: @juliefowlisofficial
The 2023 MG ALBA Scots Trad Music Awards are on the 2nd December 2023! You will be able to watch it live in person (buy a ticket here),Watch it live in the UK at 9pm (GMT) on BBC ALBA and and around the world here. Bands performing on Saturday 2nd December include Peatbog Faeries, Mànran, Karine Polwart and Dave Milligan, Duncan Chisholm Band, Joy Dunlop Band, Aberdeen SC&T Youth and more!
If you would like to support Hands Up for Trad in their work with Scottish trad music and musicians why not become a friend of Hands Up for Trad. In addition to our high profile events like the Scots Trad Music Awards, we also deliver a less well known, education programme for young people from 8yrs right through to young adults at the start of their careers. Read more here.