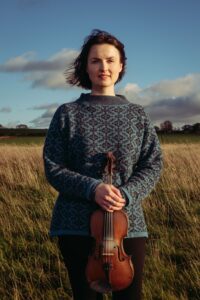 Congratulations to Jenna Reid who has been nominated in Music Tutor of the Year sponsored by Creative Scotland Youth Music Initiative in the MG ALBA Scots Trad Music Awards 2023. Vote for Jenna Reid now!. It's going to be another great night at the MG ALBA Scots Trad Music Awards on Saturday 2nd December in Dundee's Caird Hall. Why not join us for a brilliant night of music and awards. Buy a ticket here.
We asked Jenna of Jenna Reid the following questions.
Tell us about yourself
Born & bred in Quarff, Shetland, her fiddling began at a young age alongside her sister & brother, under the watchful eye of the late Willie Hunter.
As a fiddle tutor, Jenna is a commited educator, with a geniune love of teaching. Her regular online classes are attended by fiddlers from all over the world and her newly produced practise resource, "How to Practise" promises to be a perfect aid to positive practise.
With a class for every ability, her morning early bird class continue to be the busiest! Beginning in 2020, the group have met every Friday morning at 8am, learning a slow tune and its the best start to the weekend.
As a perfomer, Jenna has toured across the world and has recorded and released many albums as a soloist and band member. As a finalist of the prestigious Paul Hamlyn Award, Jenna has always composed & her 5th solo album 'Working Hands' is a stunning collection of her writing. She is joined by Mr McFall's Chamber, Harris Playfair,
Iain Sandilands & Stuart Semple, an incredible collection of the finest musicians.
Following this release, she was awarded Composer of the Year at the 2019 Scots Trad Music Awards following the release of her 5th solo album; Working Hands.
In 2023 Jenna recorded her 6th solo album, recorded in one day with Harris Playfair on piano. 'One Day' is a beautiful album, capturing the duo as they play live together.
Jenna is a member of Scottish fiddle band Blazin' Fiddles and appeared on the Transatlantic Sessions alongside Aly Bain and Jerry Douglas.
Why are you involved in Scottish music?
It's one of the best experiences, to be teaching a group of fiddlers, or on stage with Blazin' Fiddles. Wonderful in everyway.
Any particular career highlights?
Transatlantic Sessions was a real turning point and of course, joining Blazin' Fiddles.
What are your plans for the future?
To keep making music, finding great tunes to pass on to fiddle students, to keep composing new music out of my comfort zone. Meet new people and experience more incredible music making highs!
Jenna Reid Social Media
Website: http://jennareidmusic.com
Facebook: @JennaReid
Twitter: @jennareidmusic
Instagram: @jennareidmusic
YouTube: @JennaReid
TikTok: @
The 2023 MG ALBA Scots Trad Music Awards are on the 2nd December 2023! You will be able to watch it live in person (buy a ticket here),Watch it live in the UK at 9pm (GMT) on BBC ALBA and and around the world here. Bands performing on Saturday 2nd December include Peatbog Faeries, Mànran, Karine Polwart and Dave Milligan, Duncan Chisholm Band, Joy Dunlop Band, Aberdeen SC&T Youth and more!
If you would like to support Hands Up for Trad in their work with Scottish trad music and musicians why not become a friend of Hands Up for Trad. In addition to our high profile events like the Scots Trad Music Awards, we also deliver a less well known, education programme for young people from 8yrs right through to young adults at the start of their careers. Read more here.