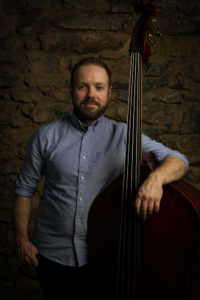 Congratulations to James Lindsay who has been nominated in Musician of the Year sponsored by University of the Highlands and Islands in the MG ALBA Scots Trad Music Awards 2023. Vote for James Lindsay now!. It's going to be another great night at the MG ALBA Scots Trad Music Awards on Saturday 2nd December in Dundee's Caird Hall. Why not join us for a brilliant night of music and awards. Buy a ticket here.
We asked James of James Lindsay the following questions.
Tell us about yourself
BIO:
James Lindsay is a genre-bending Scottish composer, bass player and multi instrumentalist whose music seamlessly blends diverse styles of traditional and contemporary music. His latest solo release Torus continues his trajectory of experimentation in folk music, exploring the tensions and connections between ourselves and our environment. As well as playing double bass full time with award-winning Scottish contemporary-folk band Breabach, James is an in-demand session artist, recording and performing with some of Scotland's most renowned folk and roots acts.
Why are you involved in Scottish music?
The Scottish music scene is a complete buzz of energy and creativity, it's a total pleasure to play a small part of it. I thrive off being able to work and perform with Scotland's incredible musicians and singers – not only is this musically fulfilling, it also allows me to connect with my culture. The scene is a hub for musical exploration and cross-genre collaborations.
Any particular career highlights?
I have been fortunate to travel the world playing Scottish traditional music with Breabach, as well as a host of other great artists, performing at venues and festivals across the UK, US, Canada, Australia, Europe, and South Korea.
In 2014 I was awarded the Martyn Bennett Prize for Composition. In 2018 I was nominated at the Scottish Awards for New Music for 'Innovation in New Traditional Music,' and in 2020 I was awarded a first prize at the 2020 In Tune With Nature competition from Nature Scot & Fèis Rois.
What are your plans for the future?
Continue to tour, record and write as much as I can. I'm currently gathering together initial ideas for my third solo album which I hope to start working on in 2024.
James Lindsay Social Media
Website: https://jameslindsaymusic.com
Facebook: @jameslmusic
Twitter: @
Instagram: @jameslindsaymusic
YouTube: @jameslindsaybass
TikTok: @
The 2023 MG ALBA Scots Trad Music Awards are on the 2nd December 2023! You will be able to watch it live in person (buy a ticket here),Watch it live in the UK at 9pm (GMT) on BBC ALBA and and around the world here. Bands performing on Saturday 2nd December include Peatbog Faeries, Mànran, Karine Polwart and Dave Milligan, Duncan Chisholm Band, Joy Dunlop Band, Aberdeen SC&T Youth and more!
If you would like to support Hands Up for Trad in their work with Scottish trad music and musicians why not become a friend of Hands Up for Trad. In addition to our high profile events like the Scots Trad Music Awards, we also deliver a less well known, education programme for young people from 8yrs right through to young adults at the start of their careers. Read more here.