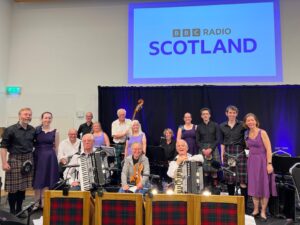 Congratulations to Iain MacPhail and his Scottish Dance Band who has been nominated in Scottish Dance Band of the Year sponsored by National Association of Accordion and Fiddle Clubs in the MG ALBA Scots Trad Music Awards 2023. Vote for Iain MacPhail and his Scottish Dance Band now!. It's going to be another great night at the MG ALBA Scots Trad Music Awards on Saturday 2nd December in Dundee's Caird Hall. Why not join us for a brilliant night of music and awards. Buy a ticket here.
We asked Iain of Iain MacPhail and his Scottish Dance Band the following questions.
Tell us about yourself
Since his first BBC Broadcast in 1972, Iain set out to bring a bit more of a Swing and Jazz feel to the Scottish traditional music scene. Iain's band are now synonymous with playing music with syncopated drive and enthusiasm, bringing a unique interpretation of traditional Scots music through orchestrations and harmony arrangements.
Why are you involved in Scottish music?
I am steeped in the culture of my country and music is in my soul.
Any particular career highlights?
• the band has taken their brand of music around the world, from South America to Japan and in the U.K. from Shetland to the South coast of England
• performing at Balmoral Castle for Her Majesty the late Queen Elizabeth and His Majesty the King over the past 23 years
• The BBC recently celebrated 50 years of radio broadcasting by the band. This is in addition to enjoying several television appearances on BBC, STV, Border TV and other broadcasting stations.
• Iain and his band have been the resident band at the Atholl Scottish Country Dance Club in Edinburgh for over 50 years in addition to playing for many country dance club balls throughout the U.K.
• Iain Chairs the National Music and Festival Trust, which was set up to promote music playing among disadvantaged children by providing the youngsters with accordions and tuition. Iain has long been an Adjudicator at Accordion Festivals. He is consultant and examiner in Scottish music at The Royal Conservatoire of Scotland, having previously devised the traditional music graded syllabus for the RSAMD.
What are your plans for the future?
Iain intends to publish my catalogue of around 350 compositions comprising all elements of Scottish traditional music
Iain MacPhail and his Scottish Dance Band Social Media
Website:
Facebook: @
Twitter: @
Instagram: @
YouTube: @
TikTok: @
The 2023 MG ALBA Scots Trad Music Awards are on the 2nd December 2023! You will be able to watch it live in person (buy a ticket here),Watch it live in the UK at 9pm (GMT) on BBC ALBA and and around the world here. Bands performing on Saturday 2nd December include Peatbog Faeries, Mànran, Karine Polwart and Dave Milligan, Duncan Chisholm Band, Joy Dunlop Band, Aberdeen SC&T Youth and more!
If you would like to support Hands Up for Trad in their work with Scottish trad music and musicians why not become a friend of Hands Up for Trad. In addition to our high profile events like the Scots Trad Music Awards, we also deliver a less well known, education programme for young people from 8yrs right through to young adults at the start of their careers. Read more here.