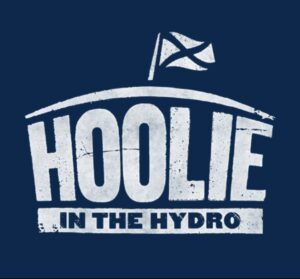 Congratulations to Hoolie in the Hydro who has been nominated in Event of the Year sponsored by VisitScotland in the MG ALBA Scots Trad Music Awards 2023. Vote for Hoolie in the Hydro now!. It's going to be another great night at the MG ALBA Scots Trad Music Awards on Saturday 2nd December in Dundee's Caird Hall. Why not join us for a brilliant night of music and awards. Buy a ticket here.
We asked Gary of Hoolie in the Hydro the following questions.
Tell us about yourself
Hoolie in the Hydro is the brainchild of musician and presenter Gary Innes. The inaugural event in December 2022 was a momentous occasion for the Scottish traditional music scene when the genre took over the country's biggest indoor arena. The watershed event was an unforgettable experience for all involved with Hoolie in the Hydro making history as the biggest single night of traditional music to have ever taken place. The now-iconic event was also the first time an arena had been hired by an individual in the UK to showcase a night completely dedicated to traditional music. Hoolie fever took over and due to fan demand and overwhelmingly positive feedback from the world-first event last year, Scotland's biggest night of traditional music is returning in 2023 with a special celebration of 50 years of Runrig.
Why are you involved in Scottish music?
I picked up an accordion for the first time at the age of 8 and to be honest I have never looked back. I released my first solo album How's the Craic in 2005 and more recently my second and third album with ERA (2017) and IMMINENT (2019)
I co-founded Mànran in 2010 and I have since recorded four albums with the band, alongside performing in over 30 countries worldwide.
In 2016 I began presenting the longest running radio show on BBC Radio Scotland – the world renowned Take the Floor, taking over from the legendary Dr Robbie Shepherd MBE. In 2020 I was also given my own show on a Sunday evening on BBC Radio Scotland called, 'Your Requests with Gary Innes.'
Hoolie in the Hydro is the culmination of a lifelong ambition of mine which is to give traditional music it's rightful place on some of the country's biggest stages. Someone always has to go first, and my hope for Hoolie in the Hydro 2022 was to pave the way for other traditional musicians to take the gamble and start booking shows on a similar scale. It was such a huge success that we have gone again this year and we're already set to make history again with an even bigger audience than last year.
Any particular career highlights?
Hoolie in the Hydro 2022 was certainly a career highlight. The whole idea was first hatched in January 2020 when I reached 20,000 likes on my Facebook Page. I posted a slightly tongue in cheek post which said if half of the people who had 'liked' my page bought a ticket for the Hydro, we could have the world's biggest ceilidh. The likes, shares and support for the idea started flooding in so I decided to properly research and scope the idea, meeting with the venue and further gauging people's interest. The feedback was resoundingly positive so in early March 2020, I went ahead and booked Scotland's largest indoor venue.
Hoolie in the Hydro went on sale in December 2021 and thousands snapped up tickets before a line-up was even announced.
Seeing it grow from this quite mad idea to welcoming thousands of people from around the world to the famous OVO Hydro in December 2022 was completely overwhelming. The reaction to the inaugural event was just phenomenal – there was such a party atmosphere on the night and it was incredible to see the reaction from the audience as they watched some of their favourite bands and musicians perform for the first time in our country's largest arena. The amazing feedback and instant demand after the concert showed me that the appetite was very much there to come together to make history once again in 2023 too. It was absolutely incredible.
What are your plans for the future?
I am delighted to say that Scotland's biggest night of traditional music, Hoolie in the Hydro, will return to Glasgow this December on Saturday 9th and I have the venue booked each December from now right up until 2026. I am also delighted to say that due to this year's ticket sales, this year's Hoolie will smash last year's record-breaking audience numbers.
For last years event I employed a brilliant and very talented Events Graduate called Freya Craig. Freya this year and for the foreseeable works full-time with me at An Aird Events and we have some very special and massive announcements to follow in the coming months which we're very excited about. Hoolie is just the beginning!
Hoolie in the Hydro Social Media
Website: https://www.garyinnes.com
Facebook: @garyinnes
Twitter: @garyinnes
Instagram: @garyinnes123
YouTube: @Anairdevents
TikTok: @
The 2023 MG ALBA Scots Trad Music Awards are on the 2nd December 2023! You will be able to watch it live in person (buy a ticket here),Watch it live in the UK at 9pm (GMT) on BBC ALBA and and around the world here. Bands performing on Saturday 2nd December include Peatbog Faeries, Mànran, Karine Polwart and Dave Milligan, Duncan Chisholm Band, Joy Dunlop Band, Aberdeen SC&T Youth and more!
If you would like to support Hands Up for Trad in their work with Scottish trad music and musicians why not become a friend of Hands Up for Trad. In addition to our high profile events like the Scots Trad Music Awards, we also deliver a less well known, education programme for young people from 8yrs right through to young adults at the start of their careers. Read more here.