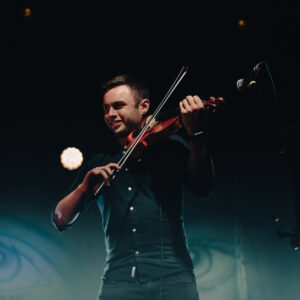 Congratulations to Graham Rorie who has been nominated in Musician of the Year sponsored by University of the Highlands and Islands in the MG ALBA Scots Trad Music Awards 2023. Vote for Graham Rorie now!. It's going to be another great night at the MG ALBA Scots Trad Music Awards on Saturday 2nd December in Dundee's Caird Hall. Why not join us for a brilliant night of music and awards. Buy a ticket here.
We asked Graham of Graham Rorie the following questions.
Tell us about yourself
I'm an Orcadian fiddle, mandolin and tenor guitar player based in Glasgow. I studied Folk Music at the Royal Conservatoire and was a finalist in the 2021 BBC Radio Scotland Young Traditional Musician of the Year competition.
I perform with the folk band Gnoss, who I formed with guitarist Aidan Moodie in 2015. I have also recently collaborated with pianist Rory Matheson on a project called "We Have Won The Land" which is an album of new music inspired by the Assynt Crofter's Trust and their community buyout of the North Lochinver Estate in 1993.
I released my debut solo album in 2021 titled "The Orcadians of Hudson Bay" which was inspired by the Orcadians who travelled to northern Canada to work for the Hudson's Bay Company during the 18th and 19th centuries. The subsequent album was nominated for 'Original Work of the Year' at the Scots Trad Music Awards and was released in album form in May 2021.
Why are you involved in Scottish music?
I was lucky enough to receive free violin tuition through Orkney Islands Council from the age of 8 to 18. These lessons were with Douglas Montgomery (Saltfishforty/The Chair) who was hugely inspiring and continues to dedicate his time to the development and progression of music in Orkney.
When I finished school I moved to Glasgow to study at RCS. This was a great opportunity to fully immerse myself in the music scene in the city and develop the skills needed to build a career as a professional musician.
Any particular career highlights?
I feel very fortunate to get to experience so much through music, both the places you see and the people you meet. These are constant highlights!
Releasing my solo album was an amazing moment for me, and gave me a welcome focus throughout 2020. The premier of the music took place at Celtic Connections 2020, with a sold-out headline show incorporating collaborations with Le Vent Du Nord which was very special.
I've been lucky enough to visit some amazing festivals including Cambridge Folk Festival, Celtic Colours (Canada), Tønder Festival (Denmark) and Festival Interceltique de Lorient (France). These have all been fantastic experiences!
What are your plans for the future?
I have been enjoying more production and studio engineering work recently and would like to do more around this. There are a few composition plans in the pipeline that I'm excited to get stuck in to over the winter.
The next year looks really exciting for Gnoss and I'm excited to experience more of the fantastic gigs and trips that we have enjoyed recently.
Graham Rorie Social Media
Website: https://www.grahamrorie.com
Facebook: @grahamroriemusic
Twitter: @graham_rorie
Instagram: @graham_rorie
YouTube: @@graham_rorie
TikTok: @
The 2023 MG ALBA Scots Trad Music Awards are on the 2nd December 2023! You will be able to watch it live in person (buy a ticket here),Watch it live in the UK at 9pm (GMT) on BBC ALBA and and around the world here. Bands performing on Saturday 2nd December include Peatbog Faeries, Mànran, Karine Polwart and Dave Milligan, Duncan Chisholm Band, Joy Dunlop Band, Aberdeen SC&T Youth and more!
If you would like to support Hands Up for Trad in their work with Scottish trad music and musicians why not become a friend of Hands Up for Trad. In addition to our high profile events like the Scots Trad Music Awards, we also deliver a less well known, education programme for young people from 8yrs right through to young adults at the start of their careers. Read more here.