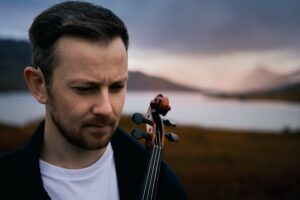 Congratulations to Graham Mackenzie who has been nominated in Composer of the Year sponsored by PRS for Music in the MG ALBA Scots Trad Music Awards 2023. Vote for Graham Mackenzie now!. It's going to be another great night at the MG ALBA Scots Trad Music Awards on Saturday 2nd December in Dundee's Caird Hall. Why not join us for a brilliant night of music and awards. Buy a ticket here.
We asked Graham of Graham Mackenzie the following questions.
Tell us about yourself
Highland fiddler and composer Graham Mackenzie is an innovative musician originally from Inverness now based in Glasgow. A graduate from the Royal Northern College of Music and the Royal Conservatoire of Scotland, he was twice a finalist in the BBC Radio 2 Young Folk Award, as well as being a finalist in the BBC Radio Scotland Young Traditional Musician of the Year. After his New Voices commission at Celtic Connections in 2015, Graham's debut album 'Crossing Borders', was released in 2016 at the Blas festival.
Graham's second studio album, 'The Dawning' launched at Celtic Connections 2023. Influenced by Scottish, Irish and Cape Breton styles of fiddle playing and co-produced with Mike McGoldrick, Graham's new work, which has featured across the BBC, combines self penned tunes alongside repertoire which has shaped him as a musician. The album also draws on his experience of performing with cross genre group, The Grit Orchestra.
Graham is a founder member of award winning instrumental folk trio 'Assynt' who were the 2018 'Up and Coming Artist of the Year' at the Scots Trad Music Awards. Their latest album, 'Where From Here' released in February 2023 has been described as 'breathtakingly wonderful' by FolkWorld.
Graham has worked alongside composer, Ruth Barrett to record the music to period drama, 'Sanditon', an eight part series on ITV as well as working with the Novello orchestra, performing soundtrack scores to live film across the UK. He is a highly sought after musician in both classical and folk genres, performing with Parisian Baroque ensemble, 'Les Musiciens de Saint Julien' extensively throughout Europe. Having started playing the fiddle at the age of six, Graham remains the youngest ever winner of a Danny Kyle Open Stage award at Celtic Connections.
Why are you involved in Scottish music?
My Grandad, who owned a fiddle, always wanted someone in the family to play and with my Mum being a music teacher, music was a big part of the household when I was growing up. It was inevitable I was going to be involved in music in some way and although I had an interest in many genres of music from an early age, I had a passion for Scottish music. I'm drawn to the simplistic nature of the tradition and the freedom to express my musical ideas through performing and composing.
Any particular career highlights?
Most recently, launching my new album, The Dawning, in the beautiful New Auditorium at Celtic Connections. I've been very lucky over the years to be involved in some of my favourite gigs at the festival including with the Celtic Connections Big Band and the Grit Orchestra.
It has always been a dream of mine to play my own music around the world and this year in particular having the opportunity to visit new countries and places with Assynt has been a real highlight.
What are your plans for the future?
I am currently working on a second tune book scheduled to be launched in the next month and I look forward to building on what has been a busy and creative year of gigging and recording.
Graham Mackenzie Social Media
Website: https://www.grahammackenziemusic.com/
Facebook: https://www.facebook.com/grahammackenziemusic
Twitter: @grahamfiddle
Instagram: @grahamlmackenzie
YouTube: @grahammackenziemusic
TikTok: @
The 2023 MG ALBA Scots Trad Music Awards are on the 2nd December 2023! You will be able to watch it live in person (buy a ticket here),Watch it live in the UK at 9pm (GMT) on BBC ALBA and and around the world here. Bands performing on Saturday 2nd December include Peatbog Faeries, Mànran, Karine Polwart and Dave Milligan, Duncan Chisholm Band, Joy Dunlop Band, Aberdeen SC&T Youth and more!
If you would like to support Hands Up for Trad in their work with Scottish trad music and musicians why not become a friend of Hands Up for Trad. In addition to our high profile events like the Scots Trad Music Awards, we also deliver a less well known, education programme for young people from 8yrs right through to young adults at the start of their careers. Read more here.