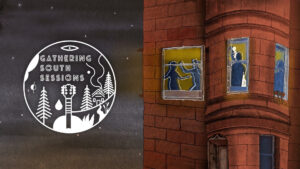 Congratulations to Gathering South Sessions who has been nominated in Club of the Year in the MG ALBA Scots Trad Music Awards 2023. Vote for Gathering South Sessions now!. It's going to be another great night at the MG ALBA Scots Trad Music Awards on Saturday 2nd December in Dundee's Caird Hall. Why not join us for a brilliant night of music and awards. Buy a ticket here.
We asked Lee of Gathering South Sessions the following questions.
Tell us about yourself
I am firstly a Scots Folk songwriter by the name Flew The Arrow, and I began running house concerts as Gathering South Sessions back in 2018. I am about to celebrate the 5th anniversary of running these sessions with my 27th house concert later in November. I began running house concerts in order to facilitate environments where artists like myself tend to thrive, in intimate spaces where the audience and artist can have a more immersive and intuitive experience, as well as to utilise the wide variety and network of artists and musicians I've discovered through my own musical endeavours and of which Glasgow has to offer. Through lockdown I adapted and expanded into the 'Gathering South Goes West' live studio series, filmed and recorded in Dystopia Studios in Partick and funded through Patreon, in order to keep in touch with my audience and continue to share intimate musical experiences with them. Earlier this year I also expanded further with 'Gathering South Presents' where I bring the intimate experience of a house concert into a live concert setting in The Old Toll Bar's venue The Red Door Club. Through running these concerts I have now been given the role of Event Manager for The Red Door Club, where I am passionate about establishing it as Glasgow's finest intimate concert and 'variety venue'. By December I'll have run my 7th 'Presents' concert, with a few of them having fortunately sold out, and is just a testament to new beginnings and my future aspirations. Since beginning GSS I have hosted many international touring acts and I feel these sessions have become a sought after show for Folk and Traditional acts coming through Glasgow which will continue to excite and astound me all the same. Having now established GSS over the past five years, in many ways I feel like I'm just beginning, and I look forward to what the future holds.
Why are you involved in Scottish music?
Through being a songwriter and performer and having evolved into a Scots Folk singer over the years, Folk & Traditional music have become the fulfilment and encapsulation of my life. It is not something I grew up with in great depth and so it is something I've grown to know and love deeply over the past ten years through my own endeavours as a songwriter. I feel immersed in Scottish culture and it is an element to my life where I have found true purpose in where my contribution and dreams and aspirations lay. I am a proud Scot although see it as a rather worldly and welcoming place where all forms of creative and cultural fusion are nurtured, and of which I am heavily passionate about contributing towards and growing alongside. Having hosted many touring acts from around the world thus far on my sessions, I am always eager to give them the friendliest welcome to Glasgow and Scotland and for them to have a memorable and enlightening experience, as I feel it's also the smallest of waves that help turn the tides.
Any particular career highlights?
With every show I put on I leave feeling that it was the best one yet and so there have been many occasions and moments I hold dear that I would love to highlight, though I'll try keep it down to a few.
Just two nights ago I hosted my fifth Presents concert and for the first time managed to wrangle four touring acts on one bill which is a first for me, having featured sensational performances from Fritillaries (Bristol), Daisy Rickman & Isaac Ockenden (Cornwall), Lucie Hendry Trio (Glasgow/Denmark), and Robin Adams (from Glasgow though currently touring).
This year I welcomed Sean Dagher to Glasgow from Montreal, a sea-shanty and world Folk singer and instrumentalist, who's well known for arranging and performing the soundtrack to the Assassins Creed Black Flag video game which is one of the biggest titles and most well-known soundtracks in the gaming world. Sean was coming over initially for the Folk Alliance International Conference and he got in touch with me through his research online, and I ended up featuring him on my live studio series as well as on one of the new Presents live concerts during his time here.
Back in Autumn 2019, after just one year in running these sessions, I held my biggest show at that time and sold out the event in a lovely spacious family home in Shawlands where the Glasgow Comedy Festival had also hosted events in. I welcomed in the first touring act I had hosted and an act which I'm a big fan of myself, Mama's Broke, from Nova Scotia.
What are your plans for the future?
So far I have ran these sessions mostly off my own back (with the help of photographers/videographers to help me produce my content as I record and film and song from each performance with every show I put on) and I've managed to keep things relatively sustainable financially, although not to the point yet where I feel like I can thrive. The next step for me would be to obtain funding so that everything I do isn't solely reliant on ticket sales. I have often put my own money into the project just to make things work, and it would be a massive relief to finally receive a little help in return for all that I put in, and to create a sturdier financial foundation of which to build. Most of the money I make from running shows goes straight to the artists and acts for performing alongside a live music video, as I feel these are the two best ways I can contribute to the artists besides the experience and exposure they gain from performing. It is a small dream to reach the point where I can begin paying myself for all the time and energy I put in, as well as to be able to hire other team members to help share the load and begin developing GSS into more of a community organisation.
Besides the financial side of things, it is also a dream and aspiration of mine to run a small one-day community festival in the spring time for Folk & Traditional music and teaming up with local charities like GalGael. This aspiration has been on the back burner for a while as I've been busy making other things happen in this chapter of my life, although this will be another major milestone for me when I achieve it.
It is also a dream to be able to work with Celtic Connections by collaborating and putting on intimate concerts during their festival and is something I hope to bring to fruition in future, but for now I have other milestones to achieve before manifesting that.
For now, I seek to continue things the way they are (with the help of some funding in the near future) by continuing to run my house concerts, live studio sessions and live concerts, and to grow and further my contribution to my community and culture as a whole. I have some exciting shows left before the year's out, and I aim to build on the success of this year by making many more incredible experiences happen and ramping things up next year onwards now I know what I can achieve.
Gathering South Sessions Social Media
Website:
Facebook: @gatheringsouth
Twitter: @
Instagram: @gatheringsouth
YouTube: @gatheringsouthsessions
TikTok: @
The 2023 MG ALBA Scots Trad Music Awards are on the 2nd December 2023! You will be able to watch it live in person (buy a ticket here),Watch it live in the UK at 9pm (GMT) on BBC ALBA and and around the world here. Bands performing on Saturday 2nd December include Peatbog Faeries, Mànran, Karine Polwart and Dave Milligan, Duncan Chisholm Band, Joy Dunlop Band, Aberdeen SC&T Youth and more!
If you would like to support Hands Up for Trad in their work with Scottish trad music and musicians why not become a friend of Hands Up for Trad. In addition to our high profile events like the Scots Trad Music Awards, we also deliver a less well known, education programme for young people from 8yrs right through to young adults at the start of their careers. Read more here.