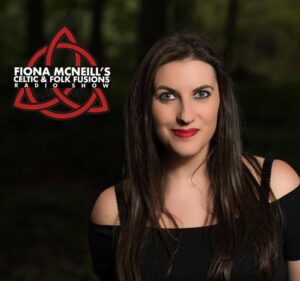 Congratulations to Fiona McNeill's Celtic & Folk Fusions radio show who has been nominated in Trad Music in the Media sponsored by Glasgow Caledonian University in the MG ALBA Scots Trad Music Awards 2023. Vote for Fiona McNeill's Celtic & Folk Fusions radio show now!. It's going to be another great night at the MG ALBA Scots Trad Music Awards on Saturday 2nd December in Dundee's Caird Hall. Why not join us for a brilliant night of music and awards. Buy a ticket here.
We asked Fiona of Fiona McNeill's Celtic & Folk Fusions radio show the following questions.
Tell us about yourself
Fiona McNeill is an award-winning Scottish voiceover artist, sound designer, musician (with Reely Jiggered), an award-winning radio presenter (Gold Female Presenter of the Year in the UK Community Radio Awards 2020) and Lecturer at the Glasgow School of Art's School of Innovation & Technology – [Sound for the Moving Image] – in which she passes on real-life experience in the industry.
For just over a decade, Fiona has voluntarily produced and presented "Fiona McNeill's Celtic & Folk Fusions" radio show showcasing celtic and folk music legendary pioneers as well as up and coming folk acts including celebrated artists Peter Morrison (Peatbog Faeries), Duncan Chisholm, Donnie Munro, ODIA, Iona Fyfe, Ainsley Hamill, Elephant Sessions, Mairi Campbell, Skerryvore, Valtos, Claire Hastings, Gary Innes, The TSD Band, Antti Paalanen (Finland), PLANTEC (Brittany), Hewson Grey (Canada), Will Wesley (USA), Katherine Priddy, the list goes on…
This show has a huge appeal to a worldwide audience with listeners located in countries like America, Canada, Spain, Germany, Italy, France, Australia, Mexico, Pakistan, to name a few, and also up and down the UK. Its popularity is in part due to the community that has been build up from the listener base and the interaction between Fiona, her guests and the listeners in real time using Celtic & Folk Fusion's Facebook page.
Fiona McNeill's Celtic & Folk Fusions radio show can be heard on various radio stations in Scotland and Ireland broadcasting on Celtic Music Radio, Dunoon Community Radio and Ballina Killaloe Radio every Tuesday 6-8pm (UK time).
Quote from a Celtic & Folk Fusions listener, Craig, from Essex –
"In the many years of listening to the radio from stations across the globe I have never heard such an amazingly warm and enchantingly engaging personality as Fiona McNeill. Her style and positivity instantly make you feel part of the family.
Her Celtic & Folk fusions show is now the go-to show for global folk music for me."
Why are you involved in Scottish music?
First off, I love Scotland! I want to showcase as much of Scotland and its culture as I possibly can. With grandparents hailing from Islay, Campbeltown, Forres and Germany, I was brought up with Scottish & Gaelic music in the house, as well as music from other parts of the world. I have also been fortunate enough to visit really interesting parts of the world including Pakistan, Japan, Mexico, Kenya, Italy, Germany and USA with my celtic folk rock band Reely Jiggered. This has been very inspiring and whilst it has given me a love of world music, it has also let me see how audiences from abroad react to Scottish music – they LOVE it and Scottish culture and heritage. It is hugely important that Scottish music is promoted and given a world stage on which it is thriving. It is important to me not only to promote well established artists on my radio show, but also to promote lesser known musicians who are unsigned, as well as up and coming artists. I perform regularly at the Islay Whisky Festival (Feis Ile), and have created radio documentaries of the Feis Ile to promote the festival to Celtic & Folk Fusions listeners, the whisky culture, the Scottish island of Islay. One of these radio documentaries was nominated at the UK Community Radio Awards.
Any particular career highlights?
Fiona can thank her experience in radio presenting and fronting/performing with Reely Jiggered for getting her into the voiceover and audiobook industry. She has made history by being the very first female to voice the opener of BBC Scotland's Sportscene football highlights in 2020.
Fiona is the voice of "Aonar" created by Austin Wolfe – a Scottish cinematic VR game which won an American student BAFTA in Los Angeles (2022), which was also supported by the Scottish Government to be voiced in Gaelic and Scots dialect. "Aonar" was also nominated in the very first "Spirit of Scotland" category at the Scottish Games Awards 2023.
In 2019, Fiona won Bronze for Female Presenter of the Year at the UK Community Radio Awards, and the year after she won Gold for Female Presenter of the Year in the UK Community Radio Awards (2020), and the year after that, she MC'd the 2021 Community Radio Awards in Coventry, which was a hybrid of being in person and also live-streamed online due to Covid. She is now on the panel of judges for the Awards. During the first Covid lockdown, Fiona and her sister, Alison, live-streamed online concerts with Reely Jiggered from their driveway, reaching over 300,000 views worldwide in their very first live stream. Fiona promotes gender equality and diversity not only through her radio show, but with her female fronted band, Reely Jiggered, performing multiple times in Pakistan and Kenya through the British High Commission. Reely Jiggered have also performed at many prestigious events and venues, including Edinburgh Castle, Stirling Castle, Oran Mor, and festivals in Mexico, Japan, Germany, Italy, and of course, Scotland.
Fiona has also broadcast live from Celtic Connections numerous times and interviewed national and international artists who are part of the festival, as well as director, Donald Shaw.
Fiona loves interviewing and showcasing all of the amazing bands and artists on her show and watching their musicals careers grow from strength to strength.
What are your plans for the future?
On a personal note – with my varied portfolio career, I would like to present on a bigger platform, in order to promote the many talents that we have here in Scotland to a larger audience.
On a wider level, I want to continue promoting gender equality and a fair representation of the diverse talents we have here in Scotland. Having performed in Pakistan and Kenya to promote gender equality with Reely Jiggered, and being the very first female to voice the BBC Scotland Sportscence football highlights opener only in 2020 – I think it is vital to be behind the movement to promote equality and diversity in this industry, not only for Scotland, but for all.
Fiona McNeill's Celtic & Folk Fusions radio show Social Media
Website: https://www.facebook.com/celticfolkfusions
Facebook: @celticfolkfusions
Twitter: @
Instagram: @
YouTube: @
TikTok: @
The 2023 MG ALBA Scots Trad Music Awards are on the 2nd December 2023! You will be able to watch it live in person (buy a ticket here),Watch it live in the UK at 9pm (GMT) on BBC ALBA and and around the world here. Bands performing on Saturday 2nd December include Peatbog Faeries, Mànran, Karine Polwart and Dave Milligan, Duncan Chisholm Band, Joy Dunlop Band, Aberdeen SC&T Youth and more!
If you would like to support Hands Up for Trad in their work with Scottish trad music and musicians why not become a friend of Hands Up for Trad. In addition to our high profile events like the Scots Trad Music Awards, we also deliver a less well known, education programme for young people from 8yrs right through to young adults at the start of their careers. Read more here.