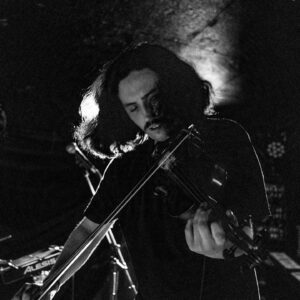 Congratulations to Euan McLaughlin who has been nominated in Musician of the Year sponsored by University of the Highlands and Islands in the MG ALBA Scots Trad Music Awards 2023. Vote for Euan McLaughlin now!. It's going to be another great night at the MG ALBA Scots Trad Music Awards on Saturday 2nd December in Dundee's Caird Hall. Why not join us for a brilliant night of music and awards. Buy a ticket here.
We asked Euan of Euan McLaughlin the following questions.
Tell us about yourself
I'm a multi-instrumentalist, producer, and string arranger from Leith but based in Glasgow. I do a lot of work as a session player and collaborator with a big range of artists across genres. I play full time with An Dannsa Dub and Valtos as well as working with a bunch of other acts including Lewis McLaughlin, Lucia & The Best Boys, Johnny Mac & The Faithful, The Poozies, Project Smok, Last Boy, Cara Rose, Ewen Bremner, Strabe, Iona Fyfe, Lapwyng & Dante amongst others.
Why are you involved in Scottish music?
I grew up around Scottish music, my parents are musicians so there was always music in the house. Getting more into it as a teenager, acts like Martyn Bennett, Shooglenifty and Mike Vass opened my eyes to what Scottish music could be and inspired me to get more involved. I love the community of the scene here, there's such a wealth of amazing musicians in Scotland and so much brilliant music being made which makes it very exciting to be involved in.
Any particular career highlights?
– Performing at major events such as Glastonbury, Boomtown Fair, Celtic Connections, DubCamp and Festival Interceltique De Lorient
– Getting to tour internationally including a trip to Australia in 2019
– Going on an arena tour opening for Rod Stewart
– Recording for the ITV series 'Victoria'
– Receiving the Ignition Award for Innovation from Hands Up For Trad in 2022
What are your plans for the future?
Next years set to be a busy one already with lots of exciting tours and festivals to look forward to. Hoping to get some more of my own music out as well as loads of stuff I've been working on with other people!
Euan McLaughlin Social Media
Website: https://www.euanmclaughlin.co.uk/
Facebook: @euanmclaughlinmusic
Twitter: @
Instagram: @euanmclaughlin_
YouTube: @
TikTok: @
The 2023 MG ALBA Scots Trad Music Awards are on the 2nd December 2023! You will be able to watch it live in person (buy a ticket here),Watch it live in the UK at 9pm (GMT) on BBC ALBA and and around the world here. Bands performing on Saturday 2nd December include Peatbog Faeries, Mànran, Karine Polwart and Dave Milligan, Duncan Chisholm Band, Joy Dunlop Band, Aberdeen SC&T Youth and more!
If you would like to support Hands Up for Trad in their work with Scottish trad music and musicians why not become a friend of Hands Up for Trad. In addition to our high profile events like the Scots Trad Music Awards, we also deliver a less well known, education programme for young people from 8yrs right through to young adults at the start of their careers. Read more here.