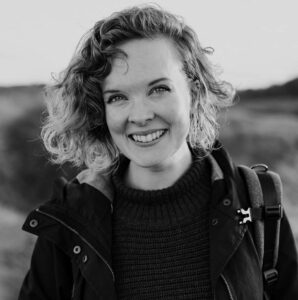 Congratulations to Elly Lucas who has been nominated in Production Awards 2023: Graphics Designer in the MG ALBA Scots Trad Music Awards 2023. Vote for Elly Lucas now!. It's going to be another great night at the MG ALBA Scots Trad Music Awards on Saturday 2nd December in Dundee's Caird Hall. Why not join us for a brilliant night of music and awards. Buy a ticket here.
We asked Elly Lucas the following questions.
Tell us about yourself
My name is Elly Lucas and I'm a photographer and graphic designer living and working in Glasgow. I made the city my home around three years ago, after more than a decade of travelling up from the English midlands to visit and work with the amazing traditional music community in Scotland.
I have a profound fondness for nature and the outdoors, and these themes are present throughout much of my work. Landscapes and the places I've visited, as well as the people I've met, inform my creative practice at a foundational level.
Working with people to create something new brings me a tremendous amount of joy at every stage, from conception right down to the smallest details. To date I've had the privilege of working on over 150 releases on the music scene, and I can't wait to see what creative projects come next.
Why are you involved in Scottish music?
Quite simply because I love it. This scene is absolutely bursting with incredible musicians, creative minds and a real wealth of stories. The people who comprise this industry provide an enormously inspiring and supportive community, which is just a downright lovely thing to be part of!
Any particular career highlights?
There's little better than seeing someone's face light up when they review the artwork for their album. I put a lot of time and thought into ensuring the music and the design are closely aligned, and it's just the best feeling to know you've done a good job of visually interpreting the intention of their work.
What are your plans for the future?
One of my favourite things about working with Scotland's traditional music community is that every project is different, and so the job never goes stale. Each new project is an opportunity to develop new concepts and come up with new ideas which excite me. My hope for the future is that I'll continue to work with people who inspire me, and whose creativity pushes me to further my professional practice and think outside the box.
Elly Lucas Social Media
Website: https://www.ellylucas.co.uk
Facebook: @ellylucasphoto
Instagram: @elly_lucas
The 2023 MG ALBA Scots Trad Music Awards are on the 2nd December 2023! You will be able to watch it live in person (buy a ticket here),Watch it live in the UK at 9pm (GMT) on BBC ALBA and and around the world here. Bands performing on Saturday 2nd December include Peatbog Faeries, Mànran, Karine Polwart and Dave Milligan, Duncan Chisholm Band, Joy Dunlop Band, Aberdeen SC&T Youth and more!
If you would like to support Hands Up for Trad in their work with Scottish trad music and musicians why not become a friend of Hands Up for Trad. In addition to our high profile events like the Scots Trad Music Awards, we also deliver a less well known, education programme for young people from 8yrs right through to young adults at the start of their careers. Read more here.