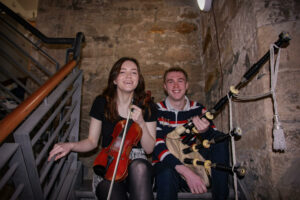 Congratulations to Ellie McLaren & Ciar Milne who has been nominated in Up and Coming Artist of the Year sponsored by Royal Conservatoire of Scotland in the MG ALBA Scots Trad Music Awards 2023. Vote for Ellie McLaren & Ciar Milne now!. It's going to be another great night at the MG ALBA Scots Trad Music Awards on Saturday 2nd December in Dundee's Caird Hall. Why not join us for a brilliant night of music and awards. Buy a ticket here.
We asked Ellie of Ellie McLaren & Ciar Milne the following questions.
Tell us about yourself
We're a fiddle and bagpipes duo hailing from rural Aberdeenshire and Dundee, but are now based in Perth. Ellie graduated from UHI with a first-class honours degree in BA (Hons) Applied Music in 2021, and Ciar graduated from RCS with a first-class honours degree in BMus Traditional Music – Piping earlier this year. We are proud to work with Live Music Now Scotland in providing live music to communities who might otherwise miss out, and most of our work is in the weddings/ceilidh/private functions sector. Ellie released her EP, 'Dargai' in October 2022, and we performed at the launch alongside Lewis McLaughlin and Eddie Seaman at Braemar Folk Festival.
Why are you involved in Scottish music?
We both have a strong passion for Scottish music, both being brought up with different styles and immersed in different strands of the culture. Ciar spent a lot of time in South Uist, and attended Ceolas growing up, and has a strong connection to the music and culture of the West Coast. Ellie was brought up in Braemar, and grew up with the style of North East fiddle-playing before moving to Plockton for her final year at school where she was immersed in Gaelic culture with Iain MacFarlane. We thoroughly enjoy playing together, and bringing live music to others through performing and teaching.
Any particular career highlights?
This nomination! Ciar graduated from RCS in July, but was successful in gaining his first position as a piping instructor for Clackmannanshire Council in April this year which is a huge achievement. Ellie released her EP last year, but has had the honour of travelling to various places around the world (Norway, Germany, Australia) with The Royal Edinburgh Military Tattoo which provided her with incredible experiences. We were successful in joining Live Music Now Scotland in November 2021, which was also a highlight for us, and we have been lucky to receive lots of work over the past two years.
What are your plans for the future?
We hope to continue gigging regularly, and perhaps form a band to record some music. However, playing live music to those who can't access it regularly is what we love doing most, it is very rewarding, and we aim to continue to do this on a wider basis.
Ellie McLaren & Ciar Milne Social Media
Website:
Facebook: @mclarenmilneduo
Twitter: @
Instagram: @mclarenmilneduo
YouTube: @
TikTok: @
The 2023 MG ALBA Scots Trad Music Awards are on the 2nd December 2023! You will be able to watch it live in person (buy a ticket here),Watch it live in the UK at 9pm (GMT) on BBC ALBA and and around the world here. Bands performing on Saturday 2nd December include Peatbog Faeries, Mànran, Karine Polwart and Dave Milligan, Duncan Chisholm Band, Joy Dunlop Band, Aberdeen SC&T Youth and more!
If you would like to support Hands Up for Trad in their work with Scottish trad music and musicians why not become a friend of Hands Up for Trad. In addition to our high profile events like the Scots Trad Music Awards, we also deliver a less well known, education programme for young people from 8yrs right through to young adults at the start of their careers. Read more here.