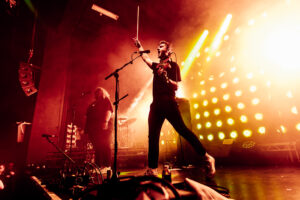 Congratulations to Elephant Sessions who has been nominated in Live Act of the Year sponsored by Gordon Duncan Memorial Trust in the MG ALBA Scots Trad Music Awards 2023. Vote for Elephant Sessions now!. It's going to be another great night at the MG ALBA Scots Trad Music Awards on Saturday 2nd December in Dundee's Caird Hall. Why not join us for a brilliant night of music and awards. Buy a ticket here.
We asked Alasdair of Elephant Sessions the following questions.
Tell us about yourself
From humble beginnings in the Highlands of Scotland, to playing around the world, Elephant Sessions celebrated their 10th year as band in 2022.
Creating a progressive blend of intricate tunes, with a bass and drum heavy backline, their music combines the very best of trad, funk and electronica, resulting in a new and exciting sound.
Since exploding on to the scene, the band have made live appearances at some of the most notable venues and festivals across the U.K, Europe, North America and Australia, including Glastonbury, Byron Bay Bluesfest, Colours of Ostrava and multiple headline sell-outs at Celtic Connections.
The band's first three albums were released to critical acclaim and amassed widespread radio play across the world.
Their new album 'For The Night' further built upon this success, charting at #3 in the Official Folk Album Chart and winning Album of the Year at the BBC Trad Music Awards 2022.
Why are you involved in Scottish music?
We all grew up playing and listening to folk and Scottish music. It's a great scene to be part of!
Any particular career highlights?
Our 10 year anniversary at the Barras has become our absolute highlight
What are your plans for the future?
Next up we have a big show at the O2 Academy in Glasgow. Maybe some new music too..
Elephant Sessions Social Media
Website: https://elephantsessions.com
Facebook: @elephantsessions
Twitter: @ElephantSession
Instagram: @elephantsessions
YouTube: @elephantsessions
TikTok: @elephantsessions
The 2023 MG ALBA Scots Trad Music Awards are on the 2nd December 2023! You will be able to watch it live in person (buy a ticket here),Watch it live in the UK at 9pm (GMT) on BBC ALBA and and around the world here. Bands performing on Saturday 2nd December include Peatbog Faeries, Mànran, Karine Polwart and Dave Milligan, Duncan Chisholm Band, Joy Dunlop Band, Aberdeen SC&T Youth and more!
If you would like to support Hands Up for Trad in their work with Scottish trad music and musicians why not become a friend of Hands Up for Trad. In addition to our high profile events like the Scots Trad Music Awards, we also deliver a less well known, education programme for young people from 8yrs right through to young adults at the start of their careers. Read more here.