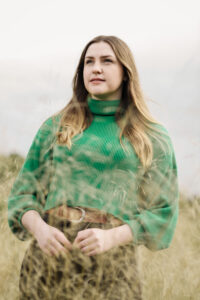 Congratulations to Eilidh Cormack who has been nominated in Gaelic Singer of the Year sponsored by Highland Society of London in the MG ALBA Scots Trad Music Awards 2023. Vote for Eilidh Cormack now!. It's going to be another great night at the MG ALBA Scots Trad Music Awards on Saturday 2nd December in Dundee's Caird Hall. Why not join us for a brilliant night of music and awards. Buy a ticket here.
We asked Eilidh of Eilidh Cormack the following questions.
Tell us about yourself
I am lucky to come from a family of singers and have grown up steeped in Gaelic language and song in the Isle of Skye. Having started performing at an early age at cèilidhs, concerts and Mòds, I managed to bag the An Comunn Gàidhealach Gold Medal at the Royal National Mòd at the age of 18 – I'd be far too nervous now! I have more recently had the opportunity to sing at festivals such as Celtic Connections, Celtic Colours, Heb Celt, Festival Interceltique de Lorient and Belladrum.
I am one third of all-female Gaelic songsters Sian, who regularly work with Niteworks, and I also have the pleasure of touring with Scottish-electronic band Valtos, who won Up & Coming Artist last year.
I am privileged to have been part of a number of collaborations over the years to bring Gaelic to new audiences, including working alongside Simple Minds' Ged Grimes on the soundtrack to The Bard's Tale IV and appearing in Netflix's Outlaw King (2018).
Why are you involved in Scottish music?
The simple answer is that it's always been in me to want to research, learn, sing and share Gaelic songs with others and I feel so privileged to be able to do it as my work. I grew up coming through the Fèisean movement and singing at the Mòd, and it felt a natural progression to move on to forming collaborations with other people through which to share these songs.
Any particular career highlights?
Singing with Sian and having Niteworks and the BBC's Scottish Symphony Orchestra roaring behind me last year has to be a particular highlight! I also really enjoyed my first taste of touring abroad with Assynt early this year as part of the Young Trad Award Winners tour in Germany, Austria and Switzerland, and had an absolutely brilliant time. It's been a brilliant couple of summers touring the country with Valtos too.
What are your plans for the future?
I plan to continue pushing the boundaries of Gaelic song with Sian and look forward to figuring out new ways to make it accessible to people outwith the culture. More touring, more music-making – watch this space!
Eilidh Cormack Social Media
Website: http://www.sian-music.com
Facebook: @
Twitter: @EilidhC_
Instagram: @eilidhskye
YouTube: @
TikTok: @
The 2023 MG ALBA Scots Trad Music Awards are on the 2nd December 2023! You will be able to watch it live in person (buy a ticket here),Watch it live in the UK at 9pm (GMT) on BBC ALBA and and around the world here. Bands performing on Saturday 2nd December include Peatbog Faeries, Mànran, Karine Polwart and Dave Milligan, Duncan Chisholm Band, Joy Dunlop Band, Aberdeen SC&T Youth and more!
If you would like to support Hands Up for Trad in their work with Scottish trad music and musicians why not become a friend of Hands Up for Trad. In addition to our high profile events like the Scots Trad Music Awards, we also deliver a less well known, education programme for young people from 8yrs right through to young adults at the start of their careers. Read more here.