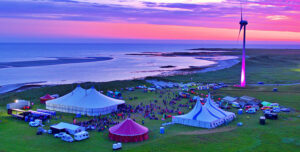 Congratulations to Eilean Dorcha Festival (EDF) who has been nominated in Event of the Year sponsored by VisitScotland in the MG ALBA Scots Trad Music Awards 2023. Vote for Eilean Dorcha Festival (EDF) now!. It's going to be another great night at the MG ALBA Scots Trad Music Awards on Saturday 2nd December in Dundee's Caird Hall. Why not join us for a brilliant night of music and awards. Buy a ticket here.
We asked Roddy of Eilean Dorcha Festival (EDF) the following questions.
Tell us about yourself
EDF is more than a music festival.
It is completely non-profit and run entirely by volunteers bringing a wide range of music, dance, crafts, food and drink to an iconic location on the island of Benbecula. The festival site is right on the Atlantic coast with spectacular views, access to the beach and amazing wildlife. The festival has become hugely important to the local community both in terms of the economic impact that it generates and the community cohesion that it engenders. In a place with limited social opportunities, particularly for young people, it is important to ensure that the festival continues as a beacon of opportunity. The festival has become a focal point for visitors considering a trip to the islands and, in particular, it attracts ex-pat islanders to return at this time. An economic impact assessment carried out in 2022 concluded that for every £1 of public investment, the festival had delivered £14 into the economy. This equated to almost £1million.
The festival aims to cater for the whole community by bringing the generations together however our key focus is on younger people. Benbecula and the neighbouring islands of North and South Uist are suffering severe depopulation and it is typically the younger members of the community who are moving away. The area has been designated as a Repopulation Zone which means that a range of targeted interventions are being deployed to try to reverse the population trend. The festival is one community led initiative which we believe enhances people's sense of confidence and pride in place.
EDF is known by festival goers as the 'Friendly Festival.' That makes us very proud.
Why are you involved in Scottish music?
Benbecula and its neighbouring islands are a stronghold of Gaelic and is one of the places where the language is still in every day use in the community. The rich Gaelic culture and heritage of the islands is of national importance and music is a major component. EDF hopes to combine every music genre in one festival to enrich the experience for the younger local artists while offering a diverse product to the festival goers. We beleve that the younger artists in particular can gain invaluable experience from the established acts and it will drive them to to excel in their own genre. We had an increased Gaelic content in the festival this year and also featured Scots for the first time. It's hugely important that our Gaelic and Scots culture is protected and nurtured as well as our contemporary music bands, Scotland has a fantastic musical history and we hope to encourage the Scottish music scene for generations to come.
Any particular career highlights?
Every year we ensure that local acts are given a platform and we have seen some of those go on to much bigger things following their festival appearances. We are extremely proud that EDF gave the band 'Peat and Diesel' it's first ever gig and they have since gone on to play major UK festivals including Glastonbury as well as having a sell-out UK tour and of course being named Best Live Act at Na Trads in 2019 and Best Music Video at Na Trads in 2020. Ruaraidh Gray, a native of South Uist and Mod double Gold medallist 2023 also won the Gaelic singer of the Year at Na Trads but started out in the EDF youth band, performing on the main stage while still at school. One of the great opportunities for young local artists is mixing with the established acts in the green room during the festival. This gives them the chance to find out more about the industry from established professionals and learn about how to progress their careers in music. This has proved to be absolutely invaluable in encouraging young (and old) musicians to pursue their dreams.
What are your plans for the future?
The festival takes community feedback every year and incorporates this into future programming. An example is that the date of the festival has been set in consultation with other community events to avoid clashes and maximise community benefit for all events, not just the festival. The effectiveness of the event is evaluated by a number of means: ticket sales breakdown by age group, post event community survey, independent economic impact assessment. As part of each year's post event survey, people are asked if they would like to become involved in the festival as a sponsor, a volunteer or as a potential board member, this naturally breeds a succession plan and keeps the community involvement at a maximum, EDF is the communities festival. This has also proved to be a a rich source of volunteers and we have built up to a team of around 60 people who perform a variety of roles from fundraising to site set up and de-rig as well as stewarding. Some of our volunteers come to us through a local befriending charity and gain valuable skills in communication, customer service and grow in confidence through engagement with festival goers.
The board operates a continuous improvement cycle, responding to feedback and taking action to ensure year on year improvement. The sourcing of a festival tent has been an issue every year due to our location and the competition to secure bookings when suppliers can more easily work with mainland based festivals. To secure the future of the festival, directors have taken the decision to invest in the purchase of a marquee which has now been delivered and will debut in the 2024 event. The tent, costing £115k, has been funded by Highlands and Islands Enterprise and commercial sponsors. This has removed an annual revenue cost of c£27k from the festival and will further contribute to the financial sustainability in future years when it is intended to be hired to other Scottish island festivals to keep their costs down and aid their sustainability as well as ours.
In line with Scotland's target to transition to net zero, the festival is seeking ways to minimise its carbon footprint. We see this as an ongoing process to gradually improve each year. The purchase of the tent is a huge step in this direction due to removing the requirement to transport on and off island from the south of England. All single use plastic has already been eliminated, there is an on-site facility to refill reusable water bottles, car parking at the site is minimal and a special public transport service operates throughout the festival weekend. 100% of the food and drink concessions will be local in 2024, representing a further saving in transport related carbon emissions and boosting local business.
The festival site itself sits behind machairland sand dunes which are particularly vulnerable to coastal erosion. Each year the festival uses hay bales on the site for seating and dressing stages. At the end of the festival, and with relevant permissions, the bales are used to plug holes in the dunes to help protect the land which has led to considerable regeneration of the land on the festival site. Over time the hay bales are covered by wind blown sand and form the foundation for growth of native grasses so it has helped hugely with the regeneration process.
Eilean Dorcha Festival (EDF) Social Media
Website: http://www.edffestival.com
Facebook: https://www.facebook.com/edffestival
Twitter: @edffestival
Instagram: @edf_festival
YouTube: @edffestival1525
TikTok: @
The 2023 MG ALBA Scots Trad Music Awards are on the 2nd December 2023! You will be able to watch it live in person (buy a ticket here),Watch it live in the UK at 9pm (GMT) on BBC ALBA and and around the world here. Bands performing on Saturday 2nd December include Peatbog Faeries, Mànran, Karine Polwart and Dave Milligan, Duncan Chisholm Band, Joy Dunlop Band, Aberdeen SC&T Youth and more!
If you would like to support Hands Up for Trad in their work with Scottish trad music and musicians why not become a friend of Hands Up for Trad. In addition to our high profile events like the Scots Trad Music Awards, we also deliver a less well known, education programme for young people from 8yrs right through to young adults at the start of their careers. Read more here.