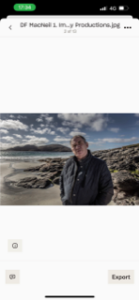 Congratulations to Donald Francis MacNeil who has been nominated in Gaelic Singer of the Year sponsored by Highland Society of London in the MG ALBA Scots Trad Music Awards 2023. Vote for Donald Francis MacNeil now!. It's going to be another great night at the MG ALBA Scots Trad Music Awards on Saturday 2nd December in Dundee's Caird Hall. Why not join us for a brilliant night of music and awards. Buy a ticket here.
We asked Donald the following questions.
Tell us about yourself
Donald Francis MacNeil, is a fisherman from the Island of Vatersay in the Outer Hebrides. Earlier this year, at the age of 64, he made his debut as a singer along with his friends in Skipinnish with their protest song The Clearances Again written by Skipinnish founder and fisherman, Angus MacPhail. This song was written and released in protest against potentially devastating Scottish Government plans to introduce Highly Protected Marine Areas (HPMAs) to over 10 percent of Scottish waters. This would have had a disastrous impact on coastal communities, decimated Island populations and extinguished the last flame of native Gaelic speakers in existence. Such was the song's impact that it reached number 4 in the UK download charts, was quoted by all main parties in the Scottish Parliament, was the title subject of two parliamentary debates in Holyrood and was referred to in Westminster. The song played a pivotal role in the Scottish Government backing down on their plans and HPMAs have now been officially removed from policy plans. Although this song was in English, DF is at heart a Gaelic singer. With this in mind, over the last few months, he has joined Skipinnish and a host of well-known singers and musicians to lead the singing in a Gaelic version of the song entitled Fuadaichean (Clearances) which was written by Angus's mother, Flora MacPhail.
Why are you involved in Scottish music?
DF has always been a singer but until this year, it was only for his own pleasure at home, on the boat, in the pub and at the occasional wedding or funeral. Someone who is very shy about his singing, it was only his strength of feeling about his livelihood, and the heritage and language of his people being destroyed by very misguided Government policy that persuaded him to let the world hear is voice. Angus MacPhail said, "DF has been a friend of ours since the very early days of Skipinnish and I have fished along-side him over the last three years around Barra and the Islands to the south. He has been my own favourite singer for a long time. His vocal clarity – fairly high range but mellow and powerful – coupled with his intelligent and committed delivery of a song from right inside the subject and narrative creates an encapsulating and very rare effect. He is also as authentic a traditional singer as exists. DF's singing is as raw, real and uncontrived as the Atlantic swell surging on the cliffs of Mingulay. However, because of his modesty and shyness regarding his singing, I did not ever expect him to be heard out-with his immediate circle of family and friends and certainly didn't expect him agree to figurehead a recording that would lead a country wide campaign. His strength of feeling on the subject matter and what was at stake was what changed his mind. Through the deeply damaging and ill thought through plans of the present Government created on a foundation of ignorance, arrogance, narrow political ambition and lack of care for minority populations and cultures and brought forward to policy stage by the backdoor deals of the Bute House Agreement, DFs unique and powerful voice has been heard by the world. I am glad that this very dark cloud in the politics of Scotland has had the silver lining of bringing one of the best singers of his generation to ears of the public. "
Any particular career highlights?
Reaching number four in the mainstream charts, a debut public performance at a packed Aberdeen Music Hall in May and with Fuadaichean, singing along with a guest line-up of the very cream of Gaelic singers and musicians have been three highlights that up until recently would have seemed outrages, but DF has taken all in his stride!
What are your plans for the future?
To keep fishing and singing and looking forward to joining Skipinnish at an already sold-out Glasgow Royal Concert Hall on January 20Th next year for the debut performance of Fuadaichean.
Donald Francis MacNeil Social Media
The 2023 MG ALBA Scots Trad Music Awards are on the 2nd December 2023! You will be able to watch it live in person (buy a ticket here),Watch it live in the UK at 9pm (GMT) on BBC ALBA and and around the world here. Bands performing on Saturday 2nd December include Peatbog Faeries, Mànran, Karine Polwart and Dave Milligan, Duncan Chisholm Band, Joy Dunlop Band, Aberdeen SC&T Youth and more!
If you would like to support Hands Up for Trad in their work with Scottish trad music and musicians why not become a friend of Hands Up for Trad. In addition to our high profile events like the Scots Trad Music Awards, we also deliver a less well known, education programme for young people from 8yrs right through to young adults at the start of their careers. Read more here.