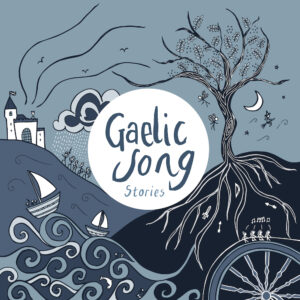 Congratulations to Deirdre Graham – Gaelic Song Stories Podcast who has been nominated in Trad Music in the Media sponsored by Glasgow Caledonian University in the MG ALBA Scots Trad Music Awards 2023. Vote for Deirdre Graham – Gaelic Song Stories Podcast now!. It's going to be another great night at the MG ALBA Scots Trad Music Awards on Saturday 2nd December in Dundee's Caird Hall. Why not join us for a brilliant night of music and awards. Buy a ticket here.
We asked Deirdre of Deirdre Graham – Gaelic Song Stories Podcast the following questions.
Tell us about yourself
Taking a contemporary approach to Scottish Gaelic singing, Deirdre Graham's raw and emotive vocal performances combine with rich orchestration to evoke powerful themes in song and story.
Since the release of her debut album, URRANTA in 2020, Deirdre has risen in prominence in the Scottish folk music scene, performing across Scotland, undertaking collaboration projects, turning her hand to guest presenting on BBC Radio Scotland's prestigious show 'Travelling Folk', and was appointed as Assistant Musical Director for this year's BBC Alba Cèilidh na Bliadhn' Ùire (Hogmanay show).
Deirdre's passion for the story behind the songs resulted in her self-produced podcast series, Gaelic Song Stories (2021), in which she interviewed revered tradition bearers, historians, and local experts. The series resonated with a global audience and invited the listener into the heart and soul of the Gael (Highlander) and gave a deep sense of connection to Scottish culture, family, and heritage. 2023 saw Deirdre release a new series of the podcast, which continues to explore the stories behind old Gaelic songs.
Why are you involved in Scottish music?
Growing up in a musical family on the Isle of Skye, Deirdre was steeped in Gaelic culture from an early age. She went on to study at the Royal Conservatoire of Scotland before moving to China and Malaysia, where she embraced the local music and traditions. Since returning home Deirdre has been active in promoting Gaelic music and exploring her cultural heritage.
Any particular career highlights?
Releasing Gaelic Song Stories and connecting with its listeners across the world
Performing with Niteworks & BBC Scottish Symphony Orchestra, Celtic Connections 2022
Guest presenting BBC 'Travelling Folk', 2022
What are your plans for the future?
A third series of Gaelic Song Stories is underway and will hopefully be released in 2024
Release new music, most likely with a song story connected to them!
Deirdre Graham – Gaelic Song Stories Podcast Social Media
Website: https://www.deirdregraham.com/
Facebook: @deirdregrahammusic
Twitter: @deirdregmusic
Instagram: @deirdregrahammusic
YouTube: @deirdregrahammusic
TikTok: @
The 2023 MG ALBA Scots Trad Music Awards are on the 2nd December 2023! You will be able to watch it live in person (buy a ticket here),Watch it live in the UK at 9pm (GMT) on BBC ALBA and and around the world here. Bands performing on Saturday 2nd December include Peatbog Faeries, Mànran, Karine Polwart and Dave Milligan, Duncan Chisholm Band, Joy Dunlop Band, Aberdeen SC&T Youth and more!
If you would like to support Hands Up for Trad in their work with Scottish trad music and musicians why not become a friend of Hands Up for Trad. In addition to our high profile events like the Scots Trad Music Awards, we also deliver a less well known, education programme for young people from 8yrs right through to young adults at the start of their careers. Read more here.