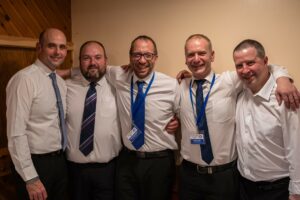 Congratulations to Cullivoe Band who has been nominated in Scottish Dance Band of the Year sponsored by National Association of Accordion and Fiddle Clubs in the MG ALBA Scots Trad Music Awards 2023. Vote for Cullivoe Band now!. It's going to be another great night at the MG ALBA Scots Trad Music Awards on Saturday 2nd December in Dundee's Caird Hall. Why not join us for a brilliant night of music and awards. Buy a ticket here.
We asked Martin of Cullivoe Band the following questions.
Tell us about yourself
Shetland based Scottish Dance band originally formed in the early 1970s. The band has featured many great Shetland Musicians over the years such as Gordon Jamieson, Willie Hunter, Ivor Scollay.
Following the retirement of Ivor in 2020 the band reformed and the current line up consists of James Leask on accordion, Bryan Gear on fiddle, Martin Henderson on piano and Graeme Garrick on drums.
The band plays for concerts, dances, weddings, festivals and functions throughout Shetland and the Scottish Mainland
Why are you involved in Scottish music?
All members of the band have been involved in the Shetland Music scene since a very young age. The band actively promotes new and old Shetland compositions in their repertoire to ensure the traditions of the Isles music is kept alive.
Any particular career highlights?
Playing at various festivals and dances throughout Shetland and the Scottish mainland.
What are your plans for the future?
To play at clubs and festivals on the Scottish Mainland and beyond for dancing and concerts.
Exploring potential recording opportunities.
Cullivoe Band Social Media
Website:
Facebook: @The Cullivoe Band 115066108168644
Twitter: @
Instagram: @the_cullivoe_band
YouTube: @
TikTok: @
The 2023 MG ALBA Scots Trad Music Awards are on the 2nd December 2023! You will be able to watch it live in person (buy a ticket here),Watch it live in the UK at 9pm (GMT) on BBC ALBA and and around the world here. Bands performing on Saturday 2nd December include Peatbog Faeries, Mànran, Karine Polwart and Dave Milligan, Duncan Chisholm Band, Joy Dunlop Band, Aberdeen SC&T Youth and more!
If you would like to support Hands Up for Trad in their work with Scottish trad music and musicians why not become a friend of Hands Up for Trad. In addition to our high profile events like the Scots Trad Music Awards, we also deliver a less well known, education programme for young people from 8yrs right through to young adults at the start of their careers. Read more here.