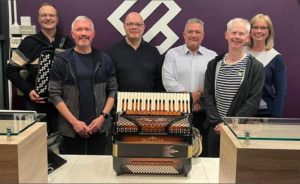 Congratulations to Crynoch Ceilidh Band who has been nominated in Scottish Dance Band of the Year sponsored by National Association of Accordion and Fiddle Clubs in the MG ALBA Scots Trad Music Awards 2023. Vote for Crynoch Ceilidh Band now!. It's going to be another great night at the MG ALBA Scots Trad Music Awards on Saturday 2nd December in Dundee's Caird Hall. Why not join us for a brilliant night of music and awards. Buy a ticket here.
We asked Ian of Crynoch Ceilidh Band the following questions.
Tell us about yourself
The Crynoch Ceilidh Band are from Aberdeenshire and was formed in January 2017, following a relocation of two of its members to the North East of Scotland from the central belt. Band members are Ian Thomson (accordion), Rob Ross (accordion), Willie Johnstone (fiddle), Ann Thomson (keyboard), Scott Gordon (drums) and on recordings and special events Brian Cruickshank (bass). The band was keen to promote live music and create a new lively sound incorporating traditional tunes, modern compositions, and a variety of arrangements, in a unique style.
The band members are all individually Scottish champions in solo competitions, trios or bands, and have a wealth of experience playing at concerts, weddings, ceilidhs, accordion & fiddle clubs, TMSA events and Scottish country dances. They have also thoroughly enjoyed representing Scotland at functions and festivals in Venezuela, Trinidad & Tobago, France, Germany, South Korea, Uganda and the Cyprus to name a few.
Ian Thomson is a committee member of the local village hall at Cookney, and so the band organise and perform at parties and ceilidhs at the venue, teaching ceilidh dances to adults and children who have no previous experience. They also take part in ceilidhs at local schools, which helps promote Scottish music and dancing amongst schoolchildren and encourage them to perform. The band was keen to be involved in charitable work, and in the past six years have organised ten charity ceilidhs, raising £17,067.16 for various charities including: MS Grampian, Cancer Research, DEC Ukraine, CAMHS, Childhood Diabetes (JDRF) and Alzheimer Scotland. There is always a brilliant atmosphere at the dances, and it is great to be able to raise money for such worthy charities which make a difference to people in the local community. Their next charity event will be on the 6th of January 2024.
Why are you involved in Scottish music?
The band has a real passion for traditional Scottish music, having started playing from an early age. They get such a buzz from performing and think it's important to keep the musical heritage alive. Twice per month, Rob and Ian play at the local ceilidh class in Aberdeen organised by the Aberdeen branch of the RSCDS. Dancers enjoying having live music at their classes and functions, and musicians enjoy the fun of coming together to perform. This has huge benefits for the mental health of the musicians, especially following the challenging period of lockdown.
Any particular career highlights?
The band is absolutely thrilled and honoured to be nominated for Scottish Dance Band of the Year. This comes just after guesting at the Accordion and Fiddle festival in Shetland in October, another highlight for them. Whilst there, the band broadcast on BBC Radio Shetland's Good Evening Shetland programme.
It is always an honour to be invited to record sessions for BBC Scotland's Take the Floor, which they do regularly, including a Christmas special audience record, which offered the opportunity to play different material and pull together some Christmas arrangements of Scottish tunes.
All of our charity events are unique and special, however listening to the heartfelt speech made by a Ukrainian national at the Ukraine charity ceilidh about what the event meant for his people, will live with us for a long time.
What are your plans for the future?
The band plans to make a recording early in 2024 and also look forward to a busy year performing at various events, such as TMSA Keith Festival in June. They are very much looking forward to continuing to support local dance groups, charities and clubs, promoting live music whenever possible.
Crynoch Ceilidh Band Social Media
Website:
Facebook: @https://www.facebook.com/groups/1992478614305592/?mibextid=oMANbw
Twitter: @
Instagram: @
YouTube: @
TikTok: @
The 2023 MG ALBA Scots Trad Music Awards are on the 2nd December 2023! You will be able to watch it live in person (buy a ticket here),Watch it live in the UK at 9pm (GMT) on BBC ALBA and and around the world here. Bands performing on Saturday 2nd December include Peatbog Faeries, Mànran, Karine Polwart and Dave Milligan, Duncan Chisholm Band, Joy Dunlop Band, Aberdeen SC&T Youth and more!
If you would like to support Hands Up for Trad in their work with Scottish trad music and musicians why not become a friend of Hands Up for Trad. In addition to our high profile events like the Scots Trad Music Awards, we also deliver a less well known, education programme for young people from 8yrs right through to young adults at the start of their careers. Read more here.