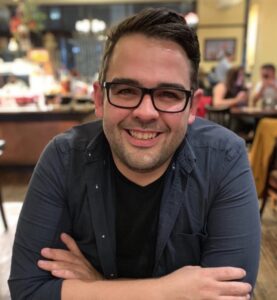 Congratulations to Craig Corse who has been nominated in Production Awards 2023: Traditional Music Enabler in the MG ALBA Scots Trad Music Awards 2023. Vote for Craig Corse now!. It's going to be another great night at the MG ALBA Scots Trad Music Awards on Saturday 2nd December in Dundee's Caird Hall. Why not join us for a brilliant night of music and awards. Buy a ticket here.
We asked Craig the following questions.
Tell us about yourself
I'm the director of CCM Live, one of Scotland's foremost folk-based booking agencies, looking after the worldwide touring of many leading Scottish artists, alongside international roots acts touring to the UK and Europe.
I'm also Festival Producer of the Orkney Folk Festival, taking the reins of the festival programme in late 2022, ahead of our 40th anniversary edition in 2023.
Additionally, I'm a co-director of Showcase Scotland Expo, Scotland's export body for folk, roots and acoustic music; and a member of the steering group for Showcase Scotland at Celtic Connections, Scotland's largest international music conference.
Why are you involved in Scottish music?
Sometimes I wonder…!
I've played the fiddle since I was eight years old (though much, much less now), which led to volunteering with the Orkney Folk Festival in my teens, and unknowingly embarking upon a career as an agent, learning how to be one as I went.
A number of my family and friends play/ed traditional music. My great grandfather was Jim Craigie, a renowned Orkney fiddle player who penned many great tunes – so whilst you could say it's in my blood, I do genuinely love working in it. There's no greater feeling than filling the last gap date on a tour, or working with artists to see a plan or project through from initial idea to live on stage.
It's a very exciting time for Scottish music, with a genuinely world class level of musicianship flying the flag for Scotland on stages throughout the country and around the world – albeit continually challenging in many areas. It might be a cliched expression, but particularly coming from a community so rich in its own traditional music such as Orkney, it's a huge part of who we are, and absolutely worth fighting for.
Any particular career highlights?
Every tour that the agency puts out is a highlight, whether that's with an already popular or newer artist. Regardless of how well an act might be known, it is never as easy as picking venues and plotting dates (if only!).
There's certainly an extra buzz when an artist covers new ground – say at an international festival – and is then able to build that audience into a sustainable, long term market, as it ultimately ensures longevity of their careers by having multiple territories from which to draw a live income. It also opens the door for others to follow.
Achieving bookings at world renowned festivals is certainly a highlight, as is helping an artist develop and grow their audience into larger spaces – but so are full houses in village halls up and down the country.
I was honoured to be appointed Festival Producer at the Orkney Folk Festival (my home festival, which I had grown up in) ahead of the 2023 event – and within that, bringing Capercaillie back to the festival (for the first time since 1986!) to reprise their orchestral suite with a local orchestra comprised half of high school students was the cherry on the cake of our 40th anniversary.
It is also very exciting to be part of the Showcase Scotland Expo team, and working to create opportunities for artists in developing markets for Scottish music. We're a small (but mighty!) country, and our artists need to tour internationally to sustain a living – or there won't be any for audiences at home to enjoy either.
What are your plans for the future?
More of the same, I hope… I've plans to gradually grow the agency over time (which I've been saying for years, but a pandemic put that on hold), and I'm committed to a few more years at the festival, and we'll see after that. 🙂
Craig Corse Social Media
Website: Http://www.ccmlive.co.uk
Facebook: @ccmlivemusic
Twitter: @ccmlivemusic
Instagram: @ccmlivemusic
The 2023 MG ALBA Scots Trad Music Awards are on the 2nd December 2023! You will be able to watch it live in person (buy a ticket here),Watch it live in the UK at 9pm (GMT) on BBC ALBA and and around the world here. Bands performing on Saturday 2nd December include Peatbog Faeries, Mànran, Karine Polwart and Dave Milligan, Duncan Chisholm Band, Joy Dunlop Band, Aberdeen SC&T Youth and more!
If you would like to support Hands Up for Trad in their work with Scottish trad music and musicians why not become a friend of Hands Up for Trad. In addition to our high profile events like the Scots Trad Music Awards, we also deliver a less well known, education programme for young people from 8yrs right through to young adults at the start of their careers. Read more here.