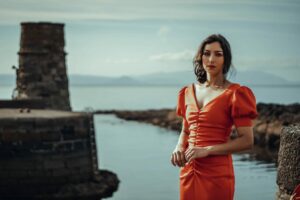 Congratulations to Chloe Matharu who has been nominated in Citty Finlayson Scots Singer of the Year sponsored by Traditional Music and Song Association of Scotland in the MG ALBA Scots Trad Music Awards 2023. Vote for Chloe Matharu now!. It's going to be another great night at the MG ALBA Scots Trad Music Awards on Saturday 2nd December in Dundee's Caird Hall. Why not join us for a brilliant night of music and awards. Buy a ticket here.
We asked Chloe of Chloe Matharu the following questions.
Tell us about yourself
"absolutely incredible" BBC Woman's Hour
"a voice of milk and honey" Anais Mitchell
Chloe Matharu is an Award winning Scottish Indian singer songwriter and harpist from Wemyss Bay on the West Coast of Scotland. Many of her songs draw on her time as a Navigational Officer in the Merchant Navy, inspired by the natural world as experienced at sea. On tour she performs solo with her harp in English, Scots and Welsh. Her music offers "an intriguing insight into a new tradition of maritime folk music with thoughtful song writing embellished by her voice and superb harp playing" – The Herald. From 2024 she will also bring electronic soundscapes to the stage as heard in her single, The Silkie of Sule Skerry, created with Tomekeeper Productions. Chloe lives on her family run alpaca and goat trekking centre. Her aim through music is to lend a voice to the modern day seafarer.
Why are you involved in Scottish music?
Growing up in Edinburgh, Chloe first started performing at sessions whilst at school, singing traditional Scots ballads acapella and attending projects such as the Youth Gaitherin. During this time she went on to tour as support with legends such as Michael Marra and Dick Gaughan. Now Chloe's music is deeply influenced by the landscape around her on the Clyde Coast, as well as her experience of the Scottish coastline through her work as a deck officer on coastal oil tankers, sailing to oil ports and out to island communities. Chloe performs and records both original and traditional songs in Scots.
Any particular career highlights?
In 2023 she has performed live on BBC Radio Four Woman's Hour, BBC Scotland News TV program The Seven, and interviewed on BBC Radio Scotland's The Afternoon Show. Chloe has performed at impressive venues such as Celtic Connections, Cambridge Folk Festival, Glad Cafe Glasgow, Green Note in London, Fringe by the Sea, Edinburgh Fringe and Hartlepool Folk Festival. She received Celtic Music Radio's Album of the Year for her debut album, Small Voyages, which was released in October 2022. She was selected by Showcase Scotland in the WOMEX awarded Global Music Match. In 2023 she was awarded a Danny at Celtic Connections; a Live Music Award at the Greenock Telegraph Community Awards; nominated by public vote in the Wales Folk Awards; and selected as one of five finalists in the Canadian Goderich Emerging Artist Showcase.
What are your plans for the future?
Following her involvement in Showcase Scotland's Global Music Match, Chloe is preparing to tour in Europe and North America as well as continuing to tour the UK. In addition to her acoustic sets, she will be bringing her electronic soundscapes to the stage with her new three piece band, coinciding with the release of her second album in 2024.
Chloe Matharu Social Media
Website: http://www.chloematharu.co.uk
Facebook: @ChloeMatharuMusic
Twitter: @girlmatharu
Instagram: @chloematharumusic
YouTube: @chloematharumusic
TikTok: @chloematharumusic
The 2023 MG ALBA Scots Trad Music Awards are on the 2nd December 2023! You will be able to watch it live in person (buy a ticket here),Watch it live in the UK at 9pm (GMT) on BBC ALBA and and around the world here. Bands performing on Saturday 2nd December include Peatbog Faeries, Mànran, Karine Polwart and Dave Milligan, Duncan Chisholm Band, Joy Dunlop Band, Aberdeen SC&T Youth and more!
If you would like to support Hands Up for Trad in their work with Scottish trad music and musicians why not become a friend of Hands Up for Trad. In addition to our high profile events like the Scots Trad Music Awards, we also deliver a less well known, education programme for young people from 8yrs right through to young adults at the start of their careers. Read more here.