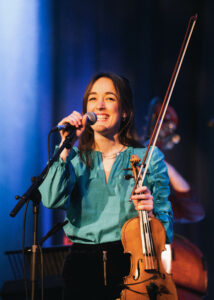 Congratulations to Catriona Price who has been nominated in Composer of the Year sponsored by PRS for Music in the MG ALBA Scots Trad Music Awards 2023. Vote for Catriona Price now!. It's going to be another great night at the MG ALBA Scots Trad Music Awards on Saturday 2nd December in Dundee's Caird Hall. Why not join us for a brilliant night of music and awards. Buy a ticket here.
We asked Catriona the following questions.
Tell us about yourself
Fiddle player, composer and vocalist Catriona Price is one of the most versatile Scottish musicians on the international stage. Catriona is equally at home in a folk or improvisation session as in classical settings, having spent her childhood in Orkney fiddle groups before training at the Royal Academy of Music. She is passionate about breaking down genre barriers and collaborating across art forms and cultures in all of her work.
Catriona's debut solo album 'Hert' came out to critical acclaim in 2023 with a premier at Celtic Connections and a sold out show at the Edinburgh International Festival 2023. She is half of the internationally acclaimed contemporary folk duo Twelfth Day and a founding member of award-winning Orcadian folk band Fara. Catriona is Co-founder, Co-artistic Director and member of the Scottish string ensemble Thirteen North. She is Artistic Director of Routes to Roots – an organisation focused on connecting communities through intercultural music collaborations.
Why are you involved in Scottish music?
I grew up immersed in the traditional music of Orkney, so Scottish music is a huge part of my musical identity. After finishing my studies down south it was important to me to move back to Scotland and be a part of our vibrant Scottish music community.
Any particular career highlights?
I've been lucky to play all over the world with my bands Fara and Twelfth Day. WOMAD Chile and Hillside Festival in Canada with Twelfth Day, and tours to China and Australia with Fara are some of my favourite highlights. I'm really proud of co-founding Thirteen North and Routes to Roots with my amazing collaborators Emily Davis, Esther Swift and Christine Lauck. Both of these projects seek to use the power of music for social change, something I'm really passionate about. Recent career highlights in my own composition work include the release of my debut solo album 'Hert', and the writing of an original film score for a short documentary film by the Northface called 'Embracing The Grim', which will come out soon.
What are your plans for the future?
I'm about to head to Latin America for two months to immerse myself in developing Routes to Roots. I'll be collaborating with different artists in Mexico and Chile and developing a protocol for intercultural collaboration through workshops with youth music groups. I can't wait to see what comes out of these collaborations musically, and to lay the foundations of an organisation that I hope will host intercultural collaborations by lots of different artists in the future. We're also preparing for a big Fara & Special Guests show at Celtic Connections 2024, Esther and I are in the process of making a new Twelfth Day album, and we're planning a Scottish tour with Thirteen North for 2024. There should also be some collaborative solo releases coming next year from the Mexico/Chile collabs. Generally, in the long term, I want to continue building on my current projects and to always push myself to keep developing as a musician and composer.
Catriona Price Social Media
Website: https://catrionapricemusic.com/
Facebook: @catrionapricemusic
Twitter: @catrionaprice
Instagram: @catrionapricemusic
YouTube: @catrionaprice3705 / @catrionapricemusic
The 2023 MG ALBA Scots Trad Music Awards are on the 2nd December 2023! You will be able to watch it live in person (buy a ticket here),Watch it live in the UK at 9pm (GMT) on BBC ALBA and and around the world here. Bands performing on Saturday 2nd December include Peatbog Faeries, Mànran, Karine Polwart and Dave Milligan, Duncan Chisholm Band, Joy Dunlop Band, Aberdeen SC&T Youth and more!
If you would like to support Hands Up for Trad in their work with Scottish trad music and musicians why not become a friend of Hands Up for Trad. In addition to our high profile events like the Scots Trad Music Awards, we also deliver a less well known, education programme for young people from 8yrs right through to young adults at the start of their careers. Read more here.