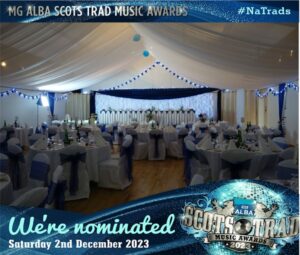 Congratulations to Breasclete Hall who has been nominated in Venue of the Year Award in the MG ALBA Scots Trad Music Awards 2023. Vote for Breasclete Hall now!. It's going to be another great night at the MG ALBA Scots Trad Music Awards on Saturday 2nd December in Dundee's Caird Hall. Why not join us for a brilliant night of music and awards. Buy a ticket here.
We asked Dina of Breasclete Hall the following questions.
Tell us about yourself
Breasclete Hall is the centre of our community from which numerous groups and clubs run a wide range of activities covering all ages. The hall committee, who are all volunteers, host a select number of weddings throughout the year and the local primary school makes full use of the facilities to support their various needs including operating pre-school provision.
Why are you involved in Scottish music?
We love to support a range of music events and create opportunities for our community to enjoy them, take part in and produce live events for all to enjoy..
Any particular career highlights?
Julie Fowlis playing in our wee hall as part of the community outreach programme of HebCelt. But the community aspect of our venue and how that brings together folk across our area and indeed how all the volunteers help make any activity so worthwhile or enjoyable is always a special moment
What are your plans for the future?
Looking fiorward to another busy year when we celebrate 20 years of our communty cnetre in 2024
Breasclete Hall Social Media
Facebook: https://www.facebook.com/p/Breasclete-Community-Association-100064691349532/?locale=en_GB
The 2023 MG ALBA Scots Trad Music Awards are on the 2nd December 2023! You will be able to watch it live in person (buy a ticket here),Watch it live in the UK at 9pm (GMT) on BBC ALBA and and around the world here. Bands performing on Saturday 2nd December include Peatbog Faeries, Mànran, Karine Polwart and Dave Milligan, Duncan Chisholm Band, Joy Dunlop Band, Aberdeen SC&T Youth and more!
If you would like to support Hands Up for Trad in their work with Scottish trad music and musicians why not become a friend of Hands Up for Trad. In addition to our high profile events like the Scots Trad Music Awards, we also deliver a less well known, education programme for young people from 8yrs right through to young adults at the start of their careers. Read more here.