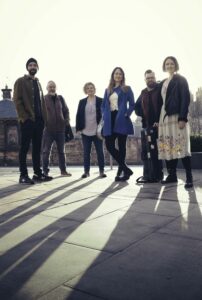 Congratulations to Blazin' Fiddles who has been nominated in Scottish Folk Band of the Year sponsored by Threads of Sound in the MG ALBA Scots Trad Music Awards 2023. Vote for Blazin' Fiddles now!. It's going to be another great night at the MG ALBA Scots Trad Music Awards on Saturday 2nd December in Dundee's Caird Hall. Why not join us for a brilliant night of music and awards. Buy a ticket here.
We asked Anna of Blazin' Fiddles the following questions.
Tell us about yourself
Take a group of the hottest contemporary fiddle players from the Highlands and Islands of Scotland, mix with some wonderfully sympathetic piano and guitar arrangements and you've got the award winning Blazin' Fiddles on your hands. Over the past twenty-five years no other band has quite captured Scottish fiddle music's variety, energy and sensitivity like Blazin' Fiddles have. Like rare single malts, each member of Blazin' Fiddles draws the distinct flavour of music from their part of the Highlands and Islands. Blending solo and ensemble sets, aged with the occasional insightful tale, they all come together in a fiery blend to excite your senses. From remote village halls to the BBC Proms at the Royal Albert Hall, fiddlers Jenna Reid, Bruce MacGregor, Rua Macmillan and Kristan Harvey are joined by Anna Massie on guitar/fiddle and Angus Lyon on piano to deliver a musically intoxicating evening for all.
Why are you involved in Scottish music?
Blazin' Fiddles was established to highlight and showcase the regional fiddle styles of Scotland, but we are happy that it is so much more than the sum of those parts. The music we make is a real passion for every member of the band.
Any particular career highlights?
With such a long-standing group, it's hard to pick highlights from such a wealth of fantastic experiences. From playing The Albert Hall in the early days to Highland tours and international travel, there is so much to choose from! This silver anniversary year has been full of good times, and we're delighted that it is still as exciting as ever to be making new music and spending time on the road.
What are your plans for the future?
Having spent 2023 celebrating twenty-five years as a band with a new album, many tours and some fantastic teaching events, we are looking forward to continuing in the same style. We're really excited about developing our St Andrew's Day celebrations,
Blazin' Fiddles Social Media
Website: http://www.blazinfiddles.com
Facebook: @blazinfiddles
Twitter: @BlazinFiddles
Instagram: @blazin_fiddles
YouTube: @blazinfiddles
TikTok: @blazinfiddles
The 2023 MG ALBA Scots Trad Music Awards are on the 2nd December 2023! You will be able to watch it live in person (buy a ticket here),Watch it live in the UK at 9pm (GMT) on BBC ALBA and and around the world here. Bands performing on Saturday 2nd December include Peatbog Faeries, Mànran, Karine Polwart and Dave Milligan, Duncan Chisholm Band, Joy Dunlop Band, Aberdeen SC&T Youth and more!
If you would like to support Hands Up for Trad in their work with Scottish trad music and musicians why not become a friend of Hands Up for Trad. In addition to our high profile events like the Scots Trad Music Awards, we also deliver a less well known, education programme for young people from 8yrs right through to young adults at the start of their careers. Read more here.