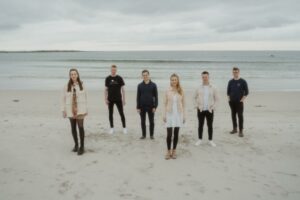 Congratulations to Beinn Lee who has been nominated in Scottish Folk Band of the Year sponsored by Threads of Sound in the MG ALBA Scots Trad Music Awards 2023. Vote for Beinn Lee now!. It's going to be another great night at the MG ALBA Scots Trad Music Awards on Saturday 2nd December in Dundee's Caird Hall. Why not join us for a brilliant night of music and awards. Buy a ticket here.
We asked Mairi Therese of Beinn Lee the following questions.
Tell us about yourself
Beinn Lee are a six-piece band from Uist in the Outer Hebrides. 2018 saw the band release their debut album OSGARRA and 2021 saw their much anticipated second album, DEÒ.
Described by renowned piper Fred Morrison as "a breath of fresh air": "the feel of the Uist music runs beautifully throughout the album and the sensitive vocals and top drawer musicianship add up to one of the most exciting musical prospects I have heard in a long time."
Formed in 2013, the band are rooted in the west coast style of traditional music. The collective inheritance of Gaelic song and west coast pipe music of members Micheal Steele, Pàdruig Morrison, Mairi Therese Gilfedder, James Stewart, Anna Black, and Seoras Lewis provide a very strong Gaelic traditional backbone to their music, but their music of contemporary and self-penned tunes and songs are infused with diverse modern influences.
Why are you involved in Scottish music?
Growing up in Uist, we were all surrounded by music from a young age, and keeping in touch with the Gaelic music and piping traditions is very important to us all. We love performing together and feel a great energy between us every time we are on stage, and it's amazing to share with the audience.
We feel it's very important to continue a connection to musicians and tradition bearers in respective band members families, therefore continuing the swing of the old style of playing, as well as pushing forward with new tunes that have come out of that tradition and contributing to the current Gaelic tradition with new original songs.
Any particular career highlights?
We have played some amazing gigs since 2013 including many of the Scottish festivals such as Heb Celt, Beò festival, Killin Music Festival, TMF and Jura Music Festival, as well as closing our home festival EDF in Uist this year which was a particular highlight. Others include performing at the Festival Interceltique de Lorient last year, as well as supporting Skippinish at the Barrowlands in 2021, and again at the Barrowlands this year when we supported Trail West. Releasing our first album in 2018 after five busy years of gigging together was another highlight!
What are your plans for the future?
We plan to release some new music in the next year, and we also have plans for a third album at some point. We have a busy year ahead of festivals in 2024 and are looking forward to playing at some ones that we have never played at before!
Beinn Lee Social Media
Website: https://www.beinnlee.com/
Facebook: https://www.facebook.com/beinnlee
Twitter: @beinnlee
Instagram: @beinnlee
YouTube: @beinnlee
TikTok: @
The 2023 MG ALBA Scots Trad Music Awards are on the 2nd December 2023! You will be able to watch it live in person (buy a ticket here),Watch it live in the UK at 9pm (GMT) on BBC ALBA and and around the world here. Bands performing on Saturday 2nd December include Peatbog Faeries, Mànran, Karine Polwart and Dave Milligan, Duncan Chisholm Band, Joy Dunlop Band, Aberdeen SC&T Youth and more!
If you would like to support Hands Up for Trad in their work with Scottish trad music and musicians why not become a friend of Hands Up for Trad. In addition to our high profile events like the Scots Trad Music Awards, we also deliver a less well known, education programme for young people from 8yrs right through to young adults at the start of their careers. Read more here.