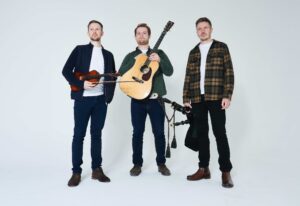 Congratulations to Assynt who has been nominated in Scottish Folk Band of the Year sponsored by Threads of Sound in the MG ALBA Scots Trad Music Awards 2023. Vote for Assynt now!. It's going to be another great night at the MG ALBA Scots Trad Music Awards on Saturday 2nd December in Dundee's Caird Hall. Why not join us for a brilliant night of music and awards. Buy a ticket here.
We asked Graham of Assynt the following questions.
Tell us about yourself
Instrumental folk trio 'Assynt' are former BBC Radio Scotland Young Musician of the Year finalists, Graham Mackenzie (fiddle) and David Shedden (pipes/whistles) alongside BBC Radio 2 Young Folk Award winner Innes White (guitar). 2018 saw the official launch of the band, the release of their debut album 'The Road to the North' and were awarded 'Up and Coming Artist of the Year' at the MG Alba Scots Trad Music Awards. Inspired by the great piping, fiddle and Gaelic traditions of the Highlands of Scotland, Assynt's self penned melodies are "refreshingly contemporary" (Folk Radio UK) while remaining true to the music traditions they are rooted in.
The group have come to be recognised for their tight-knit fiddle and pipe playing blended with intricate guitar lines and grooves. This powerful and intuitive musicality continues to be showcased throughout their second studio release 'Where From Here' described as 'breathtakingly wonderful' by FolkWorld. Assynt have received airplay across the BBC including BBC Radio 2's The Folk Show, Travelling Folk and Caithream Ciuil on BBC Radio Scotland. 2023 has already seen the band extensively tour Germany following their sold out Celtic Connections performance in January. Assynt will continue this year touring Germany, China and Australia as well as performances throughout the UK.
Why are you involved in Scottish music?
Our involvement in Scottish music comes from our family backgrounds and a collective desire to continue the tradition. David grew up immersed in the piping tradition before going on to study Scottish Music at the Royal Conservatoire of Scotland; Innes attended the Plockton Centre of Excellence and has gone on to perform with the folk scene's top musicians including John McCusker, Karen Matheson and Donald Shaw, Siobhan Miller; and Graham, after gaining a BMus from the Royal Northern College of Music, studied for a Masters in Scottish Music also at the Royal Conservatoire of Scotland.
As a band and also as individual musicians, we have had the opportunity to perform all over the world and collaborate with musicians from an array of different cultures through our involvement in Scottish music. We are keen to continue and develop traditional music through our compositions and arrangements influenced by different genres of music.
Any particular career highlights?
This entire year has been a highlight for the band, starting with Celtic Connections in January releasing our album 'Where From Here'. Since then, we have had the opportunity to travel the world touring Germany, China and we'll finish the year in Australia.
What are your plans for the future?
We hope to build on the year we have had and continue travelling, performing and promoting Scottish music around the world.
Assynt Social Media
Website: https://www.assyntmusic.com
Facebook: @AssyntMusic
Twitter: @
Instagram: @assynt_
YouTube: @assyntmusic
TikTok: @
The 2023 MG ALBA Scots Trad Music Awards are on the 2nd December 2023! You will be able to watch it live in person (buy a ticket here),Watch it live in the UK at 9pm (GMT) on BBC ALBA and and around the world here. Bands performing on Saturday 2nd December include Peatbog Faeries, Mànran, Karine Polwart and Dave Milligan, Duncan Chisholm Band, Joy Dunlop Band, Aberdeen SC&T Youth and more!
If you would like to support Hands Up for Trad in their work with Scottish trad music and musicians why not become a friend of Hands Up for Trad. In addition to our high profile events like the Scots Trad Music Awards, we also deliver a less well known, education programme for young people from 8yrs right through to young adults at the start of their careers. Read more here.