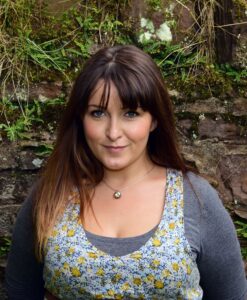 Congratulations to Amy Lord who has been nominated in Music Tutor of the Year sponsored by Creative Scotland Youth Music Initiative in the MG ALBA Scots Trad Music Awards 2023. Vote for Amy Lord now!. It's going to be another great night at the MG ALBA Scots Trad Music Awards on Saturday 2nd December in Dundee's Caird Hall. Why not join us for a brilliant night of music and awards. Buy a ticket here.
We asked Amy of Amy Lord the following questions.
Tell us about yourself
Currently, I lead and am a regular tutor for many singing groups across Scotland, and I conduct workshops for groups, projects, organisations and festivals all over the country, specialising in Scots Song. I love writing harmonies and arrangements for songs, and it's such a delight to hear them sung in a group setting.
I also teach Scots Song and Language in Primary schools in various Council areas, as I believe that learning the Scots Leid through song is a really fun and effective way to learn it – and can help cultivate an interest in Scottish culture and heritage from a young age.
It's a joy to have worked for nearly twenty years in a field where I'm able to share with people my enthusiasm and passion for singing and harmony, as well as my deep rooted passion for Scots song and language. I fully believe in "The Sang's the thing" – Scots Songs are our shared stories and histories, and should be celebrated and honoured for what they are, by being sung often and by anyone who wants. Folk songs are for "folk" to sing, not just for singers to sing.
Why are you involved in Scottish music?
There was always music and singing in our house growing up, as my mum, who is also a singer, is very passionate about Scots Song and music, so it's really always been a way of life for me. I was always very drawn to the stories of the songs I heard, and started going to local folkclubs in my teens, which led me to apply to study Scottish music at a higher education level when I left school.
I love that every song I teach, sing or share means I am contributing to the task of keeping the unique art that is Scottish music alive, as well as helping to celebrate it's rich heritage, culture and traditions. The Scottish music scene is so vibrant and all encompassing and has brought me so much – not just some of my closest friends and a supportive peer network, but a career in doing something I love – which is such a privilege.
Any particular career highlights?
I've been lucky that there have been so many joyful points in my career so far that it's hard to pick particular highlights, but setting up my first singing group The Liltin Lassies has been especially wonderful. Knowing that I've created such a supportive, friendly outgoing group of inspiring and talented women has been a total honour.
Designing the Scots Sang an Leid projeck for Stirling Council's YMI programme, which I have been running in Stirlingshire schools for sixteen years has been a definite highlight. Children are such a joy to teach, and getting to contribute towards the landscape of so many young people's musical education is humbling. In 2014, to commemorate the Battle of Bannockburn, I curated a concert where classes from schools in the Bannockburn area all came to perform a number of songs I had taught them over the previous year about the battle and local area. It was held at Stirling's Albert Halls – 350 pupils, alongside guest musicians and then audience on top… It was quite an afternoon!
Another highlight was being invited to work in St Louis in the US for the inspiring Scottish Partnership for Arts & Education Project. Teaching in schools and local groups there was a wonderful experience and it was fascinating to share songs and traditions with people who didn't live in Scotland already.
What are your plans for the future?
It's been such a wonderful and exciting few years for me, so I am full of plans for going forward. I would love to facilitate some singing together days with all the groups I have worked with, bringing together as many people as possible to sing the songs I've taught them and share the joy that singing in great numbers can bring. I'd also love to collate and publish a book of my song arrangements – I would love to know that the music I've created was being sung widely.
Amy Lord Social Media
Website: https://amylord.scot/
Facebook: @amylord.scot
Twitter: @amylorddotscot
Instagram: @
YouTube: @
TikTok: @
The 2023 MG ALBA Scots Trad Music Awards are on the 2nd December 2023! You will be able to watch it live in person (buy a ticket here),Watch it live in the UK at 9pm (GMT) on BBC ALBA and and around the world here. Bands performing on Saturday 2nd December include Peatbog Faeries, Mànran, Karine Polwart and Dave Milligan, Duncan Chisholm Band, Joy Dunlop Band, Aberdeen SC&T Youth and more!
If you would like to support Hands Up for Trad in their work with Scottish trad music and musicians why not become a friend of Hands Up for Trad. In addition to our high profile events like the Scots Trad Music Awards, we also deliver a less well known, education programme for young people from 8yrs right through to young adults at the start of their careers. Read more here.