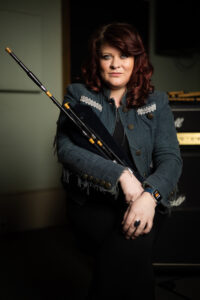 Congratulations to Alana NicAonghais who has been nominated in Production Awards 2023: Sue Wilson New Writer Award in the MG ALBA Scots Trad Music Awards 2023. Vote for Alana NicAonghais now!. It's going to be another great night at the MG ALBA Scots Trad Music Awards on Saturday 2nd December in Dundee's Caird Hall. Why not join us for a brilliant night of music and awards. Buy a ticket here.
We asked Alana the following questions.
Tell us about yourself
Alana NicAonghais, a celebrated piper and writer from the Isle of South Uist, has been nominated for the Sue Wilson New Writer Award at the upcoming MG ALBA Scots Trad Music Awards. This nomination recognizes Alana's many talents and her dedication to promoting the vibrant culture of her homeland.
Beyond performing, Alana has contributed greatly to the preservation of Uist culture through her writing. She edited and wrote music for the Young Uist Voices series, which features voice recordings of the island's youth. Her work editing and writing for the website Uist Beò has created an extensive archive of articles highlighting local businesses, residents, and traditions.
Alana was also appointed as the Flora Macdonald officer by Stòras Uibhist, coordinating events celebrating the 18th century Scottish heroine. She shares her love of Gaelic music as part of the band Beira, which fuses roaring tunes and Gaelic songs.
With her emotive piping reflecting the styles of her homeland, along with her efforts to promote Scottish culture through writing, Alana NicAonghais' nomination for this award recognizes her multifaceted talents and passion for the people and traditions of Uist.
Alana NicAonghais Social Media
Website: http://alanacmacinnes.com
The 2023 MG ALBA Scots Trad Music Awards are on the 2nd December 2023! You will be able to watch it live in person (buy a ticket here),Watch it live in the UK at 9pm (GMT) on BBC ALBA and and around the world here. Bands performing on Saturday 2nd December include Peatbog Faeries, Mànran, Karine Polwart and Dave Milligan, Duncan Chisholm Band, Joy Dunlop Band, Aberdeen SC&T Youth and more!
If you would like to support Hands Up for Trad in their work with Scottish trad music and musicians why not become a friend of Hands Up for Trad. In addition to our high profile events like the Scots Trad Music Awards, we also deliver a less well known, education programme for young people from 8yrs right through to young adults at the start of their careers. Read more here.