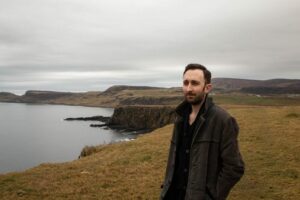 Congratulations to Alan Murray who has been nominated in Production Awards 2023: Sue Wilson New Writer Award in the MG ALBA Scots Trad Music Awards 2023. Vote for Alan Murray now!. It's going to be another great night at the MG ALBA Scots Trad Music Awards on Saturday 2nd December in Dundee's Caird Hall. Why not join us for a brilliant night of music and awards. Buy a ticket here.
We asked Alan of Alan Murray the following questions.
Tell us about yourself
Hello! I'm Alan, I'm a fiddle player, singer-songwriter and composer from Kilmuir on the Isle of Skye, now living in Glasgow. I'm a recent graduate in Applied Music from the University of the Highlands and Islands. I play with The Brogues Ceilidh Band, and I'm also one half of Americana/Folk duo Mist & Wing with my wife Grace.
Why are you involved in Scottish music?
Scottish music means a great deal to me, and it's a joy to be involved in it every day. I grew up going to ceilidhs and concerts in our local community hall in Kilmuir, and then performing for visitors to Skye in my high school years. Looking back at those experiences, in a sense it's no surprise that I ended up in Scottish music. I'm inspired by the way it connects people and draws them in, whether it's seeing folk dance their first ceilidh dance, or hear a new song for the first time.
I love how there's a continued respect for the history of the music in Scotland, even when people take it in new directions. There's no shortage of innovation, which makes it an exciting scene to work in creatively. As someone with a stammer, I've always found music to be a kind of 'happy place', and a way of communicating with others that's often easier than speaking.
It's also the little things, of course. I write tunes to help myself sleep at night. I sing songs to remind myself of home.
Any particular career highlights?
A recent highlight was my piece 'Fàilte gu Pàislig' being chosen as the official soundtrack for this year's Royal National Mòd in Paisley. It was a real honour to be recognised in this way, and to play the tune with a wonderful band in Paisley Town Hall. We recorded the track with Scott Wood at Oak Ridge Studios. I love the community feel of the Mòd, so it was great to be part of it.
Another high point was being was commissioned to write and record a song inspired by the story of the Cave of Gold on Skye. This was part of Spirit:360, a project by Highland Council for artists to create new work inspired by stories of the Highlands. The song, 'Fade', was produced with Pete Fletcher at Black Bay Studio in 2022, and was my first solo release. The story of the cave (which is just down the road from where I grew up) has fascinated me for years, and my hope for the song is to bring it to a new audience.
Releasing our first EP as Mist & Wing last year was also a significant moment. It's the first time I've released a collection of my own songs, and I'm so thankful to everyone who played a part (too many to mention!). Our lead single Country Mile was picked as a 'Top 10 Choice' in the International Song Contest 2022 (run by Blues & Roots Radio), and we also got to make a music video featuring a Triumph Herald!
What are your plans for the future?
– I'm looking forward again to writing reviews for Hands Up for Trad at Celtic Connections in January. It's such a pleasure to experience the variety of music at the festival each year, and share that with others through the reviews. I'd encourage everyone to get out to the events, and to go see someone they've never seen before. It's a cracking way to brighten up the start of the year.
– I now have over 100 tunes written, so it's about time I recorded some of them. Having my composition chosen for the Mòd was a real encouragement, so I'm inspired to share more music as soon as I can.
– I've also been working on more songs for Mist & Wing, which we hope to record in the near future. Songwriting is a slower process for me than writing tunes, but we have a few new songs now ready to share, and we can't wait to get out there and play them live!
Alan Murray Social Media
Website: http://mistandwing.com/
Facebook: @alanmurraymusic
Twitter: @alofskye
Instagram: @alofskye
YouTube: @mistandwing
TikTok: @mistandwing
The 2023 MG ALBA Scots Trad Music Awards are on the 2nd December 2023! You will be able to watch it live in person (buy a ticket here),Watch it live in the UK at 9pm (GMT) on BBC ALBA and and around the world here. Bands performing on Saturday 2nd December include Peatbog Faeries, Mànran, Karine Polwart and Dave Milligan, Duncan Chisholm Band, Joy Dunlop Band, Aberdeen SC&T Youth and more!
If you would like to support Hands Up for Trad in their work with Scottish trad music and musicians why not become a friend of Hands Up for Trad. In addition to our high profile events like the Scots Trad Music Awards, we also deliver a less well known, education programme for young people from 8yrs right through to young adults at the start of their careers. Read more here.