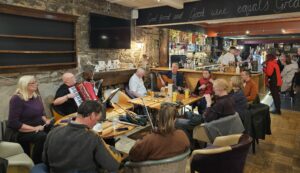 Congratulations to A Tune for The Food Bank who has been nominated in Community Project of the Year sponsored by Traditional Arts and Culture Scotland in the MG ALBA Scots Trad Music Awards 2023. Vote for A Tune for The Food Bank now!. It's going to be another great night at the MG ALBA Scots Trad Music Awards on Saturday 2nd December in Dundee's Caird Hall. Why not join us for a brilliant night of music and awards. Buy a ticket here.
We asked Allan of A Tune for The Food Bank the following questions.
Tell us about yourself
We are a collection of session instrumentalists and singers from the Inverness area that got together in 2016 to start a regular event that has ran fortnightly and often weekly ever since, apart from the obvious COVID interruption, to raise money for our local food bank.
The fee the bar has paid for the event and a donation bucket each evening is passed directly onto Inverness foodbank raising them around £33000 so far.
This makes quite a big difference to helping them with their operation costs,
One of the nicest things about the events is that we have a good number of singers along with tune players giving an almost 50/50 split most evenings between songs in Scots or Gaelic and the more traditional session tune playing.
It has always been a very friendly open session with on many nights up to 20 local musicians coming along and many travelling from afar to join us. We also love to see young musicians join us and to see their confidence progress with the occasional singer as young as 5 coming along.
Why are you involved in Scottish music?
A shared passion for the smiles, laughter in life and distraction it brings to us all.
Any particular career highlights?
As so many different musicians attend this is not about any one particular musicians highlights and these will differ significantly from person to person. Although as a collective seeing the difference the money raised makes and this nomination obviously is the highlight so far.
What are your plans for the future?
Keep the events running strong and it would be nice to see the concept of session playing being for charity as well as being for fun being copied more regularly around the country.
Often your audience would like to have the opportunity to show appreciation for the entertainment provided, so having a bucket out and a few flyers and posters for a worthwhile cause could be the norm for sessions everywhere.
A Tune for The Food Bank Social Media
Website:
Facebook: @A Tune For The Foodbank
Twitter: @
Instagram: @
YouTube: @
TikTok: @
The 2023 MG ALBA Scots Trad Music Awards are on the 2nd December 2023! You will be able to watch it live in person (buy a ticket here),Watch it live in the UK at 9pm (GMT) on BBC ALBA and and around the world here. Bands performing on Saturday 2nd December include Peatbog Faeries, Mànran, Karine Polwart and Dave Milligan, Duncan Chisholm Band, Joy Dunlop Band, Aberdeen SC&T Youth and more!
If you would like to support Hands Up for Trad in their work with Scottish trad music and musicians why not become a friend of Hands Up for Trad. In addition to our high profile events like the Scots Trad Music Awards, we also deliver a less well known, education programme for young people from 8yrs right through to young adults at the start of their careers. Read more here.