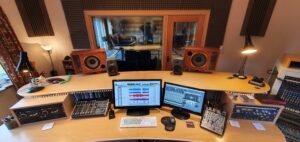 Congratulations to Watercolour Music (NB not studios!) who has been nominated in Recording Studio of the Year in the MG ALBA Scots Trad Music Awards 2022. Vote for Watercolour Music (NB not studios!) now!. It's going to be another great night at the MG ALBA Scots Trad Music Awards on Sunday 4th December in Dundee's Caird Hall. Why not join us for a brilliant night of music and awards. Buy a ticket here.
We asked Nick of Watercolour Music (NB not studios!) the following questions.
Tell us about yourself
Watercolour Music is one of the most highly sought-after residential studios in the UK. Nick Turner has been at the helm of Watercolour Music since 1994, when he set up the first incarnation of the studio in the function suite of the Loch Leven Hotel, amidst the props and detritus of various Highland-based film blockbusters of the time. Two years later, he moved to the converted farm steadings of the Home Farm in Ardgour, where Watercolour built its reputation for high quality recording and the perfect atmosphere for making music. In 2010, he and his partner Mary Ann Kennedy made the final move to brand-new, purpose-built premises on the shores of Loch Linnhe looking across to the summit of Ben Nevis. The combination of Nick's ability to capture a great take (and his infamous line in terrible jokes) plus the inspiring surroundings have made for an irresitible combination for musicians of all genres, from film orchestra to grime artists, trad music stars to TV celebs.
Why are you involved in Scottish music?
Nick chose Lochaber as Watercolour's Scottish base as it was an area rich in music of all kinds, especially traditional music. The trad connection began with local stars including songwriter Jim Hunter, and the legendary musician and producer Iain 'The Whaler' MacDonald, and with Nick's particular skills in vocal recording, the reputation was further established through a long line of Gaelic singers, including Margaret Stewart, Kathleen MacInnes, Julie Fowlis, Mary Ann Kennedy, James Graham, Rachel Walker, Arthur Cormack and many more.
Any particular career highlights?
Amongst the many producers who have worked at the studio, the highlight must be three-time Grammy-winner Jerry Boys (Buena Vista Social Club), who worked on two albums at the time of the move to the new studio. He was inspirational to work with, and took a huge interest in the studio build, helping to finesse the recording spaces and tech spec.
Nick is always looking to push the studio to its greatest potential, whether hitting Watercolour's first live radio broadcast on BBC Radio 3 on New Year's Day with local trad stars Dàimh; recording and mixing Outlander soundtrack between Lochaber and Los Angeles; or trying to corral Miriam Margolyes and Alan Cumming as they tried to corral the local goats (don't ask) while learning a Gaelic song for Channel 4.
The career highlights truly however are the artists that walk through Watercolour's doors. Every musician matters, and Nick feels privileged to be considered a part of Scotland's trad music world.
What are your plans for the future?
At the grand age of 'not telling', Nick spent lockdown developing his filming skills, with the result that his first TV documentary, 'Triall' debuted on BBC ALBA in September 2022. The connection between audio and visual has been at the heart of his work since his early days as a musician, and the prospect of a new element to the studio's work is an exciting development in a world where being flexible, multi-skilled and open to new ideas has been the key to a studio now reaching its fourth successful decade.
Watercolour Music (NB not studios!) Social Media
Website: http://www.watercolourmusic.co.uk
Facebook: @watercolourmusicuk
Twitter: @Watercolour_UK
Instagram: @
YouTube: @watercolourfilms
TikTok: @
The 2022 MG ALBA Scots Trad Music Awards are back to normal on the 4th December 2022! You will be able to watch it live in person (buy a ticket here),Watch it live in the UK at 9pm (GMT) on BBC ALBA and and around the world here. Bands performing on Sunday 4th December include Elephant Sessions, Fara, Trip, Eryn Rae Trio, The Auldeners, Gordon Shand Scottish Dance Band, Irish Minstrels, Tayside Young Fiddlers, and a James Alexander Tribute.
If you would like to support Hands Up for Trad in their work with Scottish trad music and musicians why not become a friend of Hands Up for Trad. In addition to our high profile events like the Scots Trad Music Awards, we also deliver a less well known, education programme for young people from 8yrs right through to young adults at the start of their careers. Read more here.