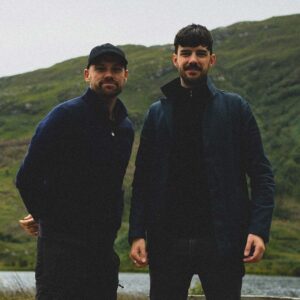 Congratulations to Valtos who has been nominated in Up and Coming Artist of the Year sponsored by Royal Conservatoire of Scotland in the MG ALBA Scots Trad Music Awards 2022. Vote for Valtos now!. It's going to be another great night at the MG ALBA Scots Trad Music Awards on Sunday 4th December in Dundee's Caird Hall. Why not join us for a brilliant night of music and awards. Buy a ticket here.
We asked Martyn of Valtos the following questions.
Tell us about yourself
Valtos are a Scottish-Electronic duo compromised of Daniel Docherty & Martyn MacDonald. By finding inspiration in the traditional music and breathtaking landscapes of our home, Skye, we have been seeking to create something new and vibrant in both the electronic and traditional Scottish music space. Having started this project with a host of remixes of traditional acts such as Mec Lir, the Peatbog Faeries, and Project Smok, we went on to release our debut album 'Valtos' in June 2022 and haven't looked backed since. We run up to a 6 piece band (Dan & Martyn, Eilidh Cormack, Lana Pheutan, Euan McLaughlin, and. Hamish Hepburn) and didn't stop across the summer of 2022. Playing from Wick to Tiree, and back, we have been extremely privileged in being able to take our music on the road and we hope to expand on this in 2023.
Why are you involved in Scottish music?
Being from Skye traditional music is in our blood. For as long as we can remember we've been listening to the likes of Runrig, the Peatbog Faeries, Blair Douglas etc. whilst also attending many ceilidhs and dances. As producers we've both been making electronic music for years but we really wanted to try and give back to the culture we are so familiar with and being surrounded with such great musicians such as Eilidh and Lana really made it easy. While attended Skye Live 2019 we decided to try and combine the Electronic music we produce with the traditional Scottish music we know so well, and the result…well, it's Valtos.
Any particular career highlights?
Playing King Tuts has was a real milestone for us. To have played a venue that some of the planets most famous bands began their careers playing is surreal. The crowd was amazing too. c300 sweaty Gaels rammed into that tiny room was intense but unbelievably fun.
Playing Tiree Music Festival was also a big one for us this year. It was our first real music festival booking and we'll be forever thankful to Daniel and Martin (and the rest of the TMF crew) for giving us such a great spot.
What are your plans for the future?
Collaboration. Collaboration. Collaboration. We love working with other types of musicians so we're going to cast our net wide in 2023 to try and craft a diverse range of music with as many different musicians as possible to try and create some new and fresh sounds. We also want to gig as much as possible and the year is already looking to be a busy one for us – so we'll see you all on the road somewhere!
Valtos Social Media
Website: https://www.valtosband.co.uk
Facebook: @valtosband
Twitter: @valtosband
Instagram: @valtosband
YouTube: @valtos
TikTok: @valtosband
The 2022 MG ALBA Scots Trad Music Awards are back to normal on the 4th December 2022! You will be able to watch it live in person (buy a ticket here),Watch it live in the UK at 9pm (GMT) on BBC ALBA and and around the world here. Bands performing on Sunday 4th December include Elephant Sessions, Fara, Trip, Eryn Rae Trio, The Auldeners, Gordon Shand Scottish Dance Band, Irish Minstrels, Tayside Young Fiddlers, and a James Alexander Tribute.
If you would like to support Hands Up for Trad in their work with Scottish trad music and musicians why not become a friend of Hands Up for Trad. In addition to our high profile events like the Scots Trad Music Awards, we also deliver a less well known, education programme for young people from 8yrs right through to young adults at the start of their careers. Read more here.