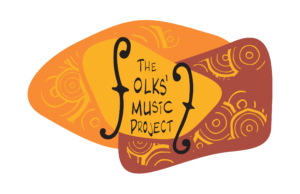 Congratulations to The Folks' Music Project CIC who has been nominated in Community Project of the Year sponsored by Innes and Campbell Communications in the MG ALBA Scots Trad Music Awards 2022. Vote for The Folks' Music Project CIC now!. It's going to be another great night at the MG ALBA Scots Trad Music Awards on Sunday 4th December in Dundee's Caird Hall. Why not join us for a brilliant night of music and awards. Buy a ticket here.
We asked Neil of The Folks' Music Project CIC the following questions.
Tell us about yourself
TFMP is a Social Enterprise which facilitates low and no cost traditional music tuition and activities for people of all ages in various communities across the Glasgow area. We host over 20 hours of group tuition each week in Neilston, Newlands and Dunterlie as well as several monthly traditional music community jam sessions and pop-up workshops and events. We are all about access and participation and believe that everyone should have equal opportunity to engage with quality traditional music activity and tuition and that doing so promotes the wellbeing of individuals and help strengthen communities. We are able to provide instruments for our activities through our partnership with Music Broth Instrument Library and The Nifty Harp Project CIC and have received generous support from Neilston Windfarm Legacy fund, Arnold Clark, The Village Storytelling Centre, TRACS, Barrhead Housing Association and the Tasgadh fund.
Why are you involved in Scottish music?
All of the TFMP team have a passion for traditional music from both Scotland and further afield and when they aren't tutoring with TFMP share the rest of their time time between teaching, performance and research all related to traditional music. We all have first hand experience of the positive impact traditional music can have on individuals and communities and are keen to help others discover this! TFMP was founded by Traditional Scottish harper Neil Wood, with the first project being in his hometown of Neilston inspired by the lack of group traditional music activity in the area when he was growing up as a young traditional musician there.
Any particular career highlights?
We deliver classes and activities in a variety of places and spaces but one of our music enjoyable highlights was a family 'come and try' event we ran in Battlefield Community Garden during the summer. The sun was shining and we met some many fantastic people, some of whom had never had the chance to sit down and try a musical instrument!
We also love the chance to share tunes, stories and songs at our community jam sessions!
What are your plans for the future?
We hope to keep offering low and now cost traditional music activities and tuition support our participants to learn tunes, develop their skills and perform in their communities!
The Folks' Music Project CIC Social Media
Website: http://www.thefolksmusicproject.co.uk
Facebook: @FolksMusicProj
Twitter: @folksmusicproj
Instagram: @folksmusicproj
YouTube: @
TikTok: @
The 2022 MG ALBA Scots Trad Music Awards are back to normal on the 4th December 2022! You will be able to watch it live in person (buy a ticket here),Watch it live in the UK at 9pm (GMT) on BBC ALBA and and around the world here. Bands performing on Sunday 4th December include Elephant Sessions, Fara, Trip, Eryn Rae Trio, The Auldeners, Gordon Shand Scottish Dance Band, Irish Minstrels, Tayside Young Fiddlers, and a James Alexander Tribute.
If you would like to support Hands Up for Trad in their work with Scottish trad music and musicians why not become a friend of Hands Up for Trad. In addition to our high profile events like the Scots Trad Music Awards, we also deliver a less well known, education programme for young people from 8yrs right through to young adults at the start of their careers. Read more here.