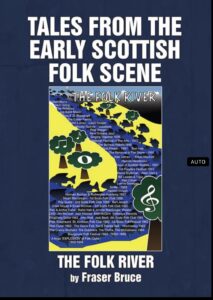 Congratulations to 'THE FOLK RIVER' – Tales of the Early Scottish Folk Club Scene. who has been nominated in Trad Music in the Media sponsored by Skipinnish in the MG ALBA Scots Trad Music Awards 2022. Vote for 'THE FOLK RIVER' – Tales of the Early Scottish Folk Club Scene. now!. It's going to be another great night at the MG ALBA Scots Trad Music Awards on Sunday 4th December in Dundee's Caird Hall. Why not join us for a brilliant night of music and awards. Buy a ticket here.
We asked Fraser of 'THE FOLK RIVER' – Tales of the Early Scottish Folk Club Scene. the following questions.
Tell us about yourself
I have been involved in folk song since becoming a member of the ballads club in Rutherglen Academy as far back as 1959. By the late 1960s, early 1970s I ran up to 8 folk clubs in the West of Scotland. I was also performing and released my first LP in 1972 on Nevis Records, followed by another with them in 1974. In 1979 I teamed up with my brother, Ian Bruce, and we had 6 very successful years as 'Fraser & Ian Bruce – Mrs Bruce's Boys'. During those years we released 3 very successful albums on Klub Records. In 1986 I stopped singing to create a 'Specialist Civil Engineering' Company only to return in 2014. Since then I have released 3 Albums, 2 on GREENTRAX, plus produced a 60 song box-set of the 'Songs of Jim McLean' featuring 8 top folk artistes.
Why are you involved in Scottish music?
My influence was Norman Buchan who ran the Ballads Club in our school, Rutherglen Academy. However, my father was an army Pipe Major so I knew many fine tunes. So, by the age of 12 I had caught the bug. By the age of 20 I was running Paisley Folk Club. By 1972 I had up to 8 folk clubs running at the same time. I love the atmosphere of sitting in a room with like minded friends singing your hearts out. That 'room' could be a folk club or a theatre, it doesn't matter to me.
Any particular career highlights?
Being offered a recording contract in 1971 was a highlight because that was a rare thing in those days. In the same year I appeared at Utrecht Festival in Holland. This was probably the first folk festival ever outside of the UK. Other highlights might include singing in the North-West Territories of Canada with an audience of more nationalities than I knew existed. Otherwise, I find it hard to select from nearly 60 years of performing.
What are your plans for the future?
The book, 'The Folk River' has been extremely well received and I am creating a theatre show around the book using songs which had a huge influence in creating the Scottish Folk Club scene of the 1960s. I have already used the basis of the show at quite a few venues over the past two months and, the audiences love it. The chance to sing along to songs that they remember from 50/60 years ago. Younger audience members simply pick up on the atmosphere and become part of the show.
'THE FOLK RIVER' – Tales of the Early Scottish Folk Club Scene. Social Media
Website: https://fraserbruce.co.uk
Facebook: @fraserbruce
Twitter: @
Instagram: @
YouTube: @
TikTok: @
The 2022 MG ALBA Scots Trad Music Awards are back to normal on the 4th December 2022! You will be able to watch it live in person (buy a ticket here),Watch it live in the UK at 9pm (GMT) on BBC ALBA and and around the world here. Bands performing on Sunday 4th December include Elephant Sessions, Fara, Trip, Eryn Rae Trio, The Auldeners, Gordon Shand Scottish Dance Band, Irish Minstrels, Tayside Young Fiddlers, and a James Alexander Tribute.
If you would like to support Hands Up for Trad in their work with Scottish trad music and musicians why not become a friend of Hands Up for Trad. In addition to our high profile events like the Scots Trad Music Awards, we also deliver a less well known, education programme for young people from 8yrs right through to young adults at the start of their careers. Read more here.