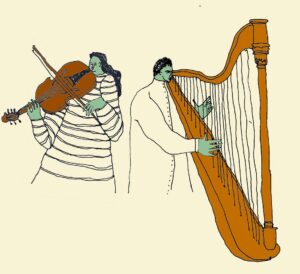 Congratulations to Tea and a Tune who has been nominated in Club of the Year sponsored by The Fraser Shaw Trust in the MG ALBA Scots Trad Music Awards 2022. Vote for Tea and a Tune now!. It's going to be another great night at the MG ALBA Scots Trad Music Awards on Sunday 4th December in Dundee's Caird Hall. Why not join us for a brilliant night of music and awards. Buy a ticket here.
We asked Ruairidh of Tea and a Tune the following questions.
Tell us about yourself
Tea and a Tune are a non-profit concert series who aim to provide a space for artists to share their traditional Scottish music with a friendly and supportive audience. We're interested in hearing how musicians respond to the rare opportunity to perform without accompaniment.
Why are you involved in Scottish music?
We wanted to create a space for unaccompanied concerts without amplification or alcohol to encourage a deeper listening and a discovery of the talents within Scottish music.
Any particular career highlights?
Since starting in May, we've run 17 concerts and have raised over £2000 – all going directly to the performing artists in cash on the night – welcoming a wide range of musicians from across Scotland's various music scenes. We're committed to a 50/50 gender balance in our programming and aim to celebrate diversity in our concerts.
What are your plans for the future?
To continue to support local musicians by providing a platform for paid solo performance in a safe and encouraging atmosphere and to grow our audience with the aim to stage larger events.
Tea and a Tune Social Media
Website: https://www.facebook.com/TeaAndaTuneTuesdays
Facebook: @TeaAndaTuneTuesdays
Twitter: @
Instagram: @
YouTube: @
TikTok: @
The 2022 MG ALBA Scots Trad Music Awards are back to normal on the 4th December 2022! You will be able to watch it live in person (buy a ticket here),Watch it live in the UK at 9pm (GMT) on BBC ALBA and and around the world here. Bands performing on Sunday 4th December include Elephant Sessions, Fara, Trip, Eryn Rae Trio, The Auldeners, Gordon Shand Scottish Dance Band, Irish Minstrels, Tayside Young Fiddlers, and a James Alexander Tribute.
If you would like to support Hands Up for Trad in their work with Scottish trad music and musicians why not become a friend of Hands Up for Trad. In addition to our high profile events like the Scots Trad Music Awards, we also deliver a less well known, education programme for young people from 8yrs right through to young adults at the start of their careers. Read more here.