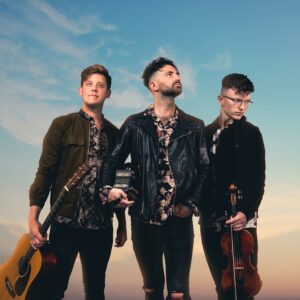 Congratulations to Talisk who has been nominated in Live Act of the Year sponsored by Greentrax Recordings in the MG ALBA Scots Trad Music Awards 2022. Vote for Talisk now!. It's going to be another great night at the MG ALBA Scots Trad Music Awards on Sunday 4th December in Dundee's Caird Hall. Why not join us for a brilliant night of music and awards. Buy a ticket here.
We asked Mohsen of Talisk the following questions.
Tell us about yourself
Ground-breaking, chart-topping, genre-bending, globetrotting, instantly enthralling… it's little wonder that Talisk rank highly amongst the most in-demand folk-based groups to emerge from Scotland in the last decade and more.
Mohsen Amini (BBC Radio 2 Folk Awards' Musician of the Year), Graeme Armstrong and Benedict Morris (BBC Radio Scotland Young Traditional Musician of the Year) fuse concertina, guitar and fiddle to produce a ground-breaking, multi-layered signature that has captivated audiences around the globe. At its core, three seemingly acoustic instruments – but in the hands of three master craftsmen; one unmistakable, bold sound and captivating live show.
Talisk have toured the world, stacking up major awards for their explosively energetic, artfully woven sound – including Folk Band of the Year at the BBC Alba Scots Trad Music Awards, a BBC Radio 2 Folk Award, and the Belhaven Bursary for Innovation. Appearances at leading festivals across multiple continents have amassed a die-hard following – including closing out Saturday night's main stage at the 2019 Cambridge Folk Festival, Denmark's Tønder Festival, the Rainforest World Music Festival in Malaysian Borneo, WOMADs UK, Chile and Las Palmas, Edmonton Folk Festival, Milwaukee Irish Festival, three back-to-back years at the Philadelphia Folk Festival, and six appearances at Glasgow's Celtic Connections.
Following their critically acclaimed debut, Abyss, Talisk's sophomore album, Beyond, quickly amassed five star reviews and rose to No.1 in the iTunes world music charts upon its late 2018 release. With streaming figures into multiple millions audiences worldwide are hotly anticipating the latest chapter from a group lauded by leading world music magazine Songlines as: "incredibly infectious and endearing… fresh, invigorating, accomplished."
Why are you involved in Scottish music?
Through our three different backgrounds we each have individually fell in love with the Scottish music scene. With Talisk we've been touring across the globe for about 7 years visiting some absolutely incredible places and playing to the best crowds we could ever imagine. It's hard to stay away from the scene to be completely honest.
Any particular career highlights?
We've been fortunate enough to have a few really exciting highlights to our career.
This year was kicked off with an absolute bang as we performed to millions on the BBC One Hogmanay show. Straight after that we performed our biggest solo headline gig to a Sold Out Old Fruitmarket as part of Celtic Connections!
We found ourselves catching up with the last few years and in a weekend over summer where we travelled to Cz Republic, Galicia & Finland we managed to play to a 14,000 cap stage in Ortigueira.
There has been so many incredible moments but those will definitely stay with us for a while!
What are your plans for the future?
After releasing DAWN we are going to be looking forward to getting album 4 underway but before that we are straight back into January with our show at SWG3 which is going to be our biggest produced show yet!
The scene has pretty quickly been producing some incredible shows and we genuinely can't wait to show everyone what we have planned!
We're back over to the States in February/March and then have a few big festivals slots to announce over the coming months for 2023 and some massive headline shows to come!
Talisk Social Media
Website: https://taliskmusic.com
Facebook: @taliskmusic
Twitter: @taliskmusic
Instagram: @taliskmusic
YouTube: @taliskmusic
TikTok: @taliskmusic
The 2022 MG ALBA Scots Trad Music Awards are back to normal on the 4th December 2022! You will be able to watch it live in person (buy a ticket here),Watch it live in the UK at 9pm (GMT) on BBC ALBA and and around the world here. Bands performing on Sunday 4th December include Elephant Sessions, Fara, Trip, Eryn Rae Trio, The Auldeners, Gordon Shand Scottish Dance Band, Irish Minstrels, Tayside Young Fiddlers, and a James Alexander Tribute.
If you would like to support Hands Up for Trad in their work with Scottish trad music and musicians why not become a friend of Hands Up for Trad. In addition to our high profile events like the Scots Trad Music Awards, we also deliver a less well known, education programme for young people from 8yrs right through to young adults at the start of their careers. Read more here.